Istanbul's rich culture and architecture are the main reasons why visitors flood this lovely European city in massive numbers. Add another reason to this list-the beaches of Istanbul. Thanks to the Black Sea, the Marmara Sea and the Bosporus Strait surrounding the peninsula, there are many opportunities to enjoy the sun in a multitude of beaches. The Istanbul summers are warm and attract guests to escape to the warm sandy beaches in Istanbul.
In this blog, you can find which beaches to go to within the borders of Istanbul and its islands, as well as some luxury pools. Whether you prefer swimming in the sea or the swimming pool, there is a wide array of options.
Sea-Side
Tırmata Beach
This huge beach with 5000 people capacity has a car park with 3000 vehicles capacity. At least one of the guests who come as a group in Tirmata Beach has the condition of being a woman. In other words, if you're a man, you cannot enter without a woman accompanying you. With this application, Tirmata Beach stands out with its family beach and aims to take precautions for unpleasant situations.
Entrance fees are 5,33$ on weekdays, 8,89$ on weekends and holidays, and 2,67$ for 7-14-year-olds. Free parking is available.
📍 Kumköy Mahallesi, Kilyos Cd. No:61, 34450 Sarıyer/İstanbul
Suma Beach
Located in Gümüşdere area, the beach has areas such as picnic areas, restaurants and sun terraces in the forest. In addition to sports such as football, volleyball, ATV, there are various water sports facilities on the beach. You pay 5,33$ on weekdays and 8,89$ on weekends to enter the beach which hosts many festivals in Istanbul. The price applies to the students differently.
📍 Gümüşdere Mahallesi, Boğaziçi Kampüs Yolu 1/A, 34450 Sarıyer/İstanbul
Solar Beach
Being one of the most beautiful beaches of Istanbul, Solar Beach has been serving since the summer of 2002. Solar Beach, as well as being one of the largest private beaches in Turkey also welcomes its visitors as well as an outdoor performance center. The beach, which has a much more developed infrastructure than other beaches, is filled with fun activities at night as well as at night.
You have to pay a fee of 8,89$ per person to Solar Beach which is open 7 days a week. The parking fee is 1,78$.
To reach Kilyos Beach, which is 30 km away from Istanbul, you must first go to Sarıyer with public transportation. Then take the IETT Kilyos bus from Şehit Mithat Yılmaz Street or you can choose the private Solar Beach vehicles.
📍 Kumköy Mahallesi, Kilya Caddesi, No 32/34, 34450 Sarıyer/İstanbul
Burç Beach
You can spend a day with a variety of activities at the Bosphorus University's Burç Beach, where you can enjoy DJ performances as well as chill at the cafes, bars, and restaurants within the facility. From flying kites to windsurfing and beach volleyball, you can join any activity on the beach.
The beach fees for guests from outside are 7,11$ per weekday and 12,44$ per week. With its revenue, Burç Beach creates resources for the University of Boğaziçi. It is open from 9 am to 9.30 pm every day.
📍 Gümüşdere Mahallesi, Sarıtepe Kampüsü, Sarıyer, İstanbul
Baykuş Beach
This beach is located on the coast of Mimar Sinan Fine Arts University's research center in Kilyos Kısırkaya. Baykuş Beach is one of Istanbul's most beautiful beaches where your family can enjoy the beach. You can rent a sunbed or swim here, or you can put up your tent and watch the sunset.
The beach fees for guests from outside are 5,33$ per weekday and 8,89$ per week. If you'd like to stay in a tent, the price is 8,89$ (for 2 people) for both weekdays and the weekend. Yet, if you say ''I have my own tent, I would just like to stay here.'', then the price lowers to 4,45$. In addition to the tents, the hostel prices for two are 17,78$ for the weekdays and 22,23$ for the weekend.
📍 Kilyos Gümüşdere Yolu., Gümüşdere Köyü, Sarıyer, İstanbul
Menekşe Beach
Menekse Beach, managed by the Metropolitan Municipality of Istanbul, is one of Istanbul's European-side beaches.
Entrance fee is 3,56$ for adults and 2,67$ for students. The entrance of children for the age of 0-7 is free. It is possible to benefit from sunbeds, umbrellas, changing cabins, shower and toilet areas without paying anything extra. You can also rent safety deposit boxes for 2,67$.
📍 Florya Kenedy Cad., Fatih Mahallesi, Bakırköy, İstanbul
Güneş Beach
The Güneş Beach in Florya, which is operated by the Istanbul Metropolitan Municipality, is one of the beaches of the European side that are cleaned of dirt and opened to the public. A photo of Atatürk entering the sea known to everyone is taken in Florya Güneş Beach.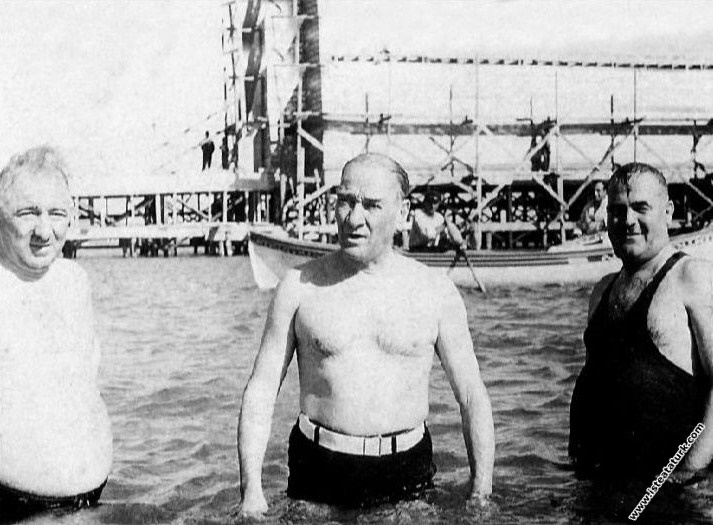 Using the Sirkeci-Halkalı train, you can reach the Florya station, therefore the beach. The entrance fee to the beach is the same as Menekse Beach.
📍 Florya Tren İstasyonu Karşısı Florya, İstanbul
Caddebostan
For those living on the Anatolian side, Caddebostan beaches are of great advantage. The beaches of Caddebostan offers an authentic opportunity for swimming and sunbathing with their sun loungers and kiosks.
In Caddebostan there are 3 beaches. To enter Caddebostan 1 Beach, which is behind the big club, you have to have Istanbul Card. Fees are 3,91$ for adults and 1,96$ for students. Caddebostan 2 and 3 beaches are free.
📍 Caddebostan Mahallesi, Caddebostan Sahil Yolu, İstanbul
Ayazma Beach
Since 1996, Ayazma has been the most prominent beach of Şile. This beach consists of two beach clubs as well as a public beach. Ayazma Public Beach is 10 kilometers long and it is also called the Sile Public Beach.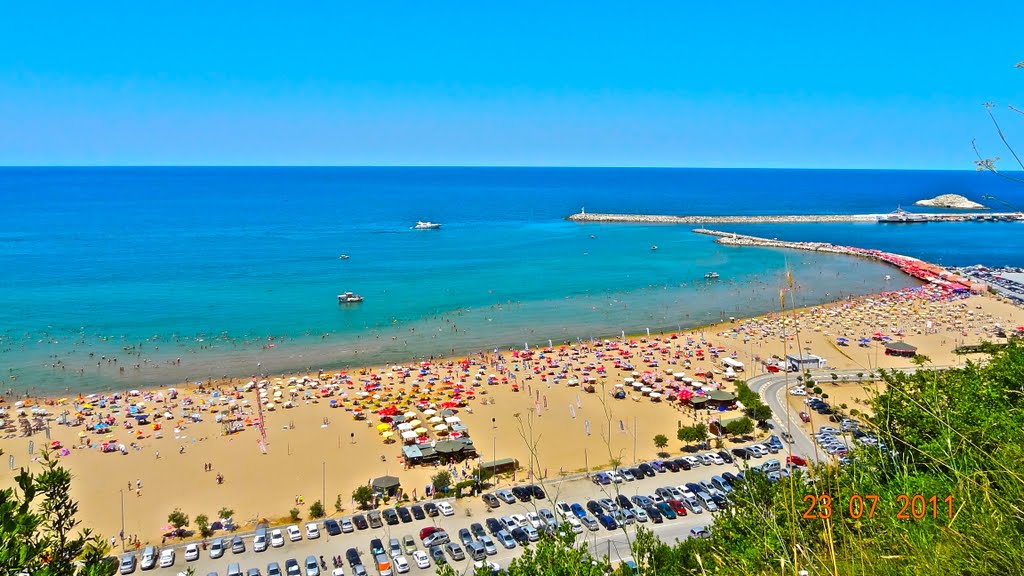 2 sunbeds and 1 umbrella are priced at 5,33$. Between 12.00-17.00 there is a fee while at other times you can freely use it. However, you must pay for entering the beach club parts. Fusha Beach opens its doors at 3,56$ on weekdays and 5,33$ on weekends. The price includes toilets, sunbeds, and parasols. No parking fee is applicable.
📍 Çavuş Mahallesi, 34980 Şile/İstanbul
Uzunkum Beach
Uzunkum Beach, with its clean and warm sea, is one of the favorite holiday resorts. There is a public beach on Uzumkum Beach, where you can go for free. However, you will be asked to pay 8$ if you want to enter the Aqua Beach Club. Sunbeds, parasols, sofas, fried and nuts are included in this 8$
📍 Balibey Mahallesi, 34980 Şile/İstanbul
Ağlayankaya Beach
There is a beach club called Şile Life Beach on Ağlayankaya Beach. It fascinates visitors with its beach club's lodges and restaurants. For entries, you should pay 7,11$ on weekdays and 8,89$ on weekends.
📍 Balibey Mahallesi, Ağlayan Kaya Caddesi, No:17, 34980 Şile/İstanbul
Kumbaba Beach
In the Byzantine period, Kumbaba was known as a place where people went to have a sand bath and it is said that the sand of the region is good for rheumatismal diseases.
You can park your car by paying 1,78$ to the camp and caravan area. You also don't pay an entrance fee. The beach provides a shower, dressing room, toilet as well as other amenities such as coffee shop, restaurant to ensure our guests the greatest comfort.
📍 Meşrutiyet Mahallesi, Kumbaba Cd., 34980 Şile/İstanbul
Suadiye Beach
This public beach, where you don't pay any fees at the entrances, has a very decent environment. Besides free entrance, in Suadiye Beach, you don't have to pay any fees for sunbeds and umbrellas.
Suadiye is one of Istanbul's most posh and high-class beaches, probably because of its location. What is also unique about this beach is that here, you can also take windsurfing lessons and enjoy the sea even more.
In terms of transportation, this beach's location is very advantageous, as it has an IETT bus stop.
📍 Suadiye Mahallesi, Pembegül Sokak, 34740 Kadıköy/İstanbul
Yeşilköy Çiroz Beach
Located between Yeşilköy Pier and Florya BB Social Facilities, Yeşilköy Çiroz Beach consists of 2 small coves and offers free services to residents of Istanbul on Marmara Sea shores.
Çiroz Beach is a place where you can swim in the sea in summer and walk on it and take a nice sea air in winter. There are 550 sunbeds and umbrellas, 2 lifeguard towers, 80 locker cabins, 20 toilets and 12 showers in the beach. There are two volleyball fields as well as one football field.
As it is a public beach, there are no entrance fees. In order to reach the beach, you can use public transportation.
📍 Yeşilköy Mahallesi, Kordonboyu Sk., 34149 Bakırköy/İstanbul
Tarabya Beach
Sarıyer Tarabya Beach, located in Istanbul's Sarıyer district, is a beach that exhibits all the beauty of the Bosphorus. This beach is home to many people, especially celebrities. The unforgettable film scenes of the old Turkish films were shot on this beach. If you are familiar with the films of' Yeşilçam,' you will even become nostalgic.
The entrance fee is 13,33$ here and 17,77$ on the weekend. It provides free entry for children between the ages of 0-6.
📍 Tarabya Mahallesi, Yeniköy Tarabya Cd. No:3, 34457 Sarıyer/İstanbul
Beykoz Küçüksu Beach
If you want to enjoy the swimming against the Bosphorus Bridge, Küçüksu Beach is for you. At the beach, you have everything you need, including lifeguards, dressing rooms, and of course, toilets and showers.
The entrance fee is not charged since this is a public beach. However, if you want to rent a sunbed or umbrella, you will have to pay a fee that varies between 2-6$.
📍 Göksu Mahallesi, Küçüksu Cd., 34815 Beykoz/İstanbul
Riva Beach
A perfect beach for those who live on the Anatolian Side and close to the 2nd Bridge on the European Side. Riva Beach, a liberating place for Istanbulites in summer, is located within the boundaries of Beykoz district. Riva Beach, which is on the shore overlooking the Black Sea, is quite large due to its location in a bay. Yet, it's very short in length. This is why the beach looks so overcrowded in summer.
You must pay the entrance fee of 0,89$ for Riva Beach. You should pay extra 0,89$ to rent a sun lounger inside, and 1,33$ to rent an umbrella. For transportation, you can use the IETT bus with the number of 137 from Beykoz.
📍 Riva Mahallesi, Ş. Mehmet Ali Şener Caddesi, No: 1, 34344 Beykoz
The Islands
Our islands, which are within the scope of a ferry trip to Istanbul, are one of the most beautiful places of Istanbul to swim in. With its pristine, natural areas and beaches renovated and diversified every year, the islands of Heybeli, Kınalı, Bueyükada, and Burgaz provide an indispensable beauty.
Büyükada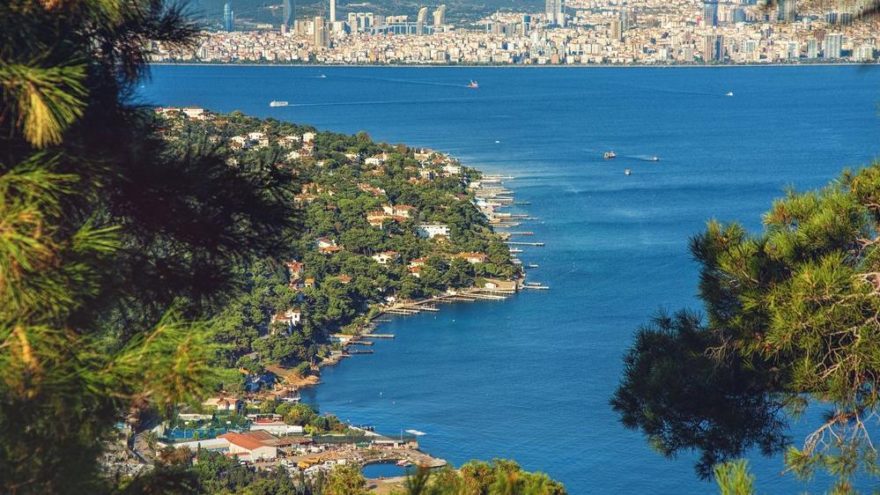 Nakibey Beach
Nakibey Beach, which is one of the newly opened beaches of Buyukada, can take place on your list as a good option for both to swim and stay on the island. This beach is a family business and has been in service since 1984. The beach is full of restaurants, restaurants, and a buffet. There are also bungalow houses that you can stay at for 17,77$ per person.
The sea levels near the Naki Bey Beach is also quite shallow. That's why people who don't know how to swim and families with children can prefer it.
You can reach the beach by boat Naki Bey which stands on the pier after reaching Büyükada.
While the price for children in weekdays is 3,55$, this price is 7,11$ for adults. This amount goes up to 4,44$ for children on weekends; and 8,89$ for adults. The entrance to the beach includes wifi, shower, dressing room, sun loungers and transportation by boat.
📍 Maden Mahallesi, Nakibey Çıkmazı, No:17, 34970 Adalar
Princess Bay Beach
Prenses Beach also offers both beach and accommodation services to its guests like Nakibey. Among the services included in the beach entrance fee which is 7,11$ on weekdays and 8,89$; it also includes shower, toilet, safe, umbrella and sun loungers. A free boat is available to reach Princess Bay next to the Blue Marmara pier on the island.
📍 Kamelya Sokak No:14 Büyükada, 34970
Yörük Ali Beach
Yörük Ali Beach, where you can go on a day trip and have a nice holiday in the bungalow houses; is one of the most popular places to visit in Istanbul and its surroundings. The beach is owned by Yörükali Facility which also provides accommodation services. In the evenings, guests can enjoy restaurant service with live music.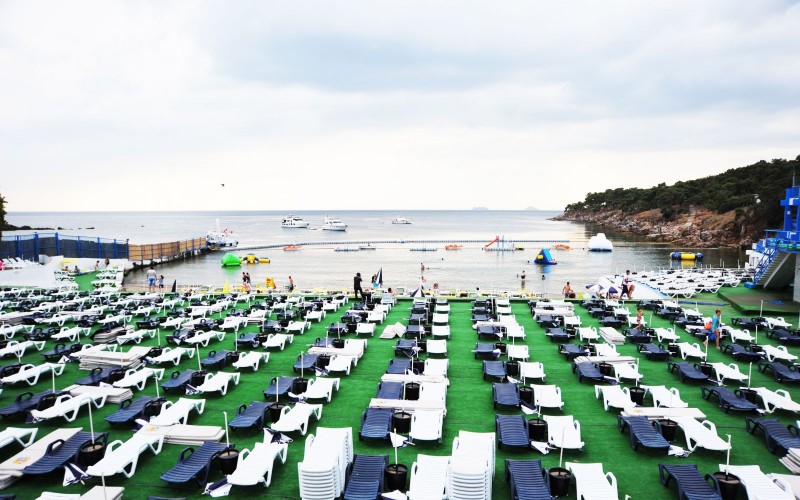 The entrance fee to Yörük Ali Beach is 6,22$ on weekdays and Saturday and 7,11$ on Sundays and holidays. The price includes sunbeds, mattresses, umbrellas, coffee table, shower, and beach use.
📍 Nizam Mh., Yörükali Mevkii Yörükali Tesisleri, 34970 Adalar/İstanbul
Aya Nikola Public Beach
Aya Nikola Beach stands out with its calm sea on the east of Büyükada, overlooking the Sedef Island. Those who do not know how to swim can enjoy this water.
You have to pay 25 days a week for access to Aya Nikola Beach and 6,22$ for the weekend. For transportation to Aya Nikola Beach, you can take the free Büyükada Pier boats. The beach can also be reached by carriage, bicycle or hiking.
📍 Büyükada-Maden Mahallesi, Yılmaz Türk Cad. Aya Nikola Mevkii No:156, 34970 Adalar/İstanbul
Kumsal Beach
This is a family beach and families looking for a calm and peaceful environment generally prefer it. For access to Kumsal Family Beach, you have to pay 3,55$ on weekdays and 4,44$ on weekends. These fees include sunbeds and umbrellas.
📍 Maden Mahallesi, Nakibey Çıkmazı, No:17, 34970 Adalar
Eskibağ Beach
This calm and not-so-crowded beach belongs to the Boutique Hotel in Eskibag, and you can organize your special events here.
You can use the motors installed on the pier for transportation. Also on the tour route is the beach. You also can reach it on foot. The beach is equipped with shower, umbrellas, sun beds and other services you need. For entries, you have to pay 5,34$. This weekend fee is 7,12$.
📍 Nizam Mahallesi, Sakarya Cd. No:5, 34970 Adalar/İstanbul
Halik Bay Beach
Halik Beach, which is 800 meters long and has the capacity of 400 people, is the longest beach of Buyukada. You can reach this beach by a motor from Büyükada. Halik Bay Beach is far from other beaches and is perfect for those who are looking for peace and quiet. You can camp around the beach as well. On weekdays you pay 3,55$ and at weekends you pay 5,34$.
📍 Büyükada-nizam Mahallesi, 34970 Adalar/İstanbul
Nizam Beach
Nizam Beach is one of Büyükada's cleanest and most safe beaches. Nizam Beach Facilities has been serving its guests since 1994 and is a family business. Every year it renews itself and offers better quality and a wide range of services.
The seashore is shallow and filled with sand. With your kids, you can enter the sea with peace of mind. It's a place with clean cabins and showers where you can feel comfortable. Nizam Beach is renowned for its delicious patties and toast. It welcomes its guests with an understanding of friendly service that does not compromise their quality and taste.
You can reach the beach from the pier with motor services after arriving in Büyükada. The fee you pay for entry will not exceed 8,89$, but it does not include services such as sunbeds. You have to pay a separate fee if you want to reap the benefits of them.
📍 Nizam Mahallesi, Adalar/İstanbul
Heybeliada
Ada Beach Club
Located in the bay of Çam Limanı, Ada Beach is one of the beaches that you should carry to your list with its fresh air. Besides offering you everything you would expect from a classic vacation at the beach; you can also enjoy various activities such as mini-golf tournaments, beach volleyball, and boat tours. Not to mention, there is also a café and a fish restaurant on the beach.
Admission fee is 6,22$ per person, weekdays and Saturdays and 8,89$ on Sundays. Children between 0-7 years of age are free of charge. The entrance fee included sunbeds, umbrellas, shower, toilet and dressing cabin as in other beach clubs.
📍 Çamlık Mevki, 34973 Adalar/İstanbul
Aqua Green Beach
You will not be charged an additional fee for dressing cabins, sun loungers, and parasols at Aqua Green Beach, where you only pay for entry. Entrance fees vary from 6 – 10$ to the beach.
📍 Heybeliada Mahallesi, Yeni İskele Yolu Sk., 34010 Adalar/İstanbul
Akvaryum Bay
When you reach the steep paths and the stairs, the landscape that is waiting for you is worth everything. With its entire naturalness, the cove is totally untouched.
There is a symbolic entrance fee, but it is nothing much to worry about. You must order one day in advance by phone if you wish to taste the delicious mussels you haven't eaten your whole life. This is because the mussels are cooked fresh from the sea according to the daily demand.
📍 Heybeliada Mahallesi, Yeni İskele Yolu Sk., 34010 Adalar/İstanbul
Burgazada
Kalpazankaya Beach
The beach of the island of Kalpazankaya, which is one of the natural beaches of the island, is 30-35 minutes on foot from the Burgazada Pier. There is only a buffet on the beach.
You have to pay 0,89$ for access to the beach but this does not include other services. You need to pay 1,78$ for renting umbrellas and sunbeds and 0,53$ for the shower.
📍 Kalpazankaya Yolu Sok. No:42, Burgazada, 34975 Adalar/İstanbul
6 Number Public Beach
The 6 Number Public Beach, which has a very clean sea, is 1.5 kilometers from Burgazada port. It should be noted that the beach is stony.
You can get to the beach from the quay, by bicycle or on foot, and you do not have to pay any fees for entry.
📍 Burgazadası Mahallesi, Barbaros Hayrettin Cd. No:3, 34975 Adalar/İstanbul
Çamakya Beach
Çamakya Beach is a public beach where you don't pay for entry just like the 6 Number Beach. Sunbeds and umbrella rental cost 3,56$. The beach is a 45-minute walk from the pier whereas you can reach the beach in 10 minutes by car.
📍 Burgazadası Mahallesi, Gezinti Yolu Cd. No:49, 34975 Adalar/İstanbul
Madam Martha Bay
Madame Martha Bay, which is 2 kilometers from the pier, was named after Madame Martha, who once lived here and loved by everyone. The land at the top of the bay makes camping very convenient. Hence, this place is covered with colorful tents, especially on weekends. The only downside is that you can't feed your stomach in any place. So you should get some food with you beforehand.
📍 Burgazadası Mahallesi, 34975 Adalar/İstanbul
Kınalıada
Kumluk Beach
Do not be fooled by the name of Kumluk Beach (Sandy Beach). In fact, it has a beach that is very stony. That's why the sea is pretty clean. Another feature of the sea is that it is quite shallow. Thus the Kumluk beach can be preferred with tranquility by families with children and people who do not swim.
At the entrances to the beach, you have to be with a lady, men are not taken inside if they're single. Entries on weekdays are 3,56$ and weekends are 5,34$. Snack bars and cafés are also available. The beach is accessible with free boat tours by the Kınalıada Pier. The pier can also be reached on foot.
📍 Kınalıada Mahallesi, 34977 Adalar/İstanbul
Swimming Pools
Four Seasons Hotel Bosphorus
The Bosphorus Four Seasons Hotel offers an alternative choice for those who can't go on a long-term summer vacation. You can enjoy the city view while you enjoy the large swimming pools and relaxing areas around it.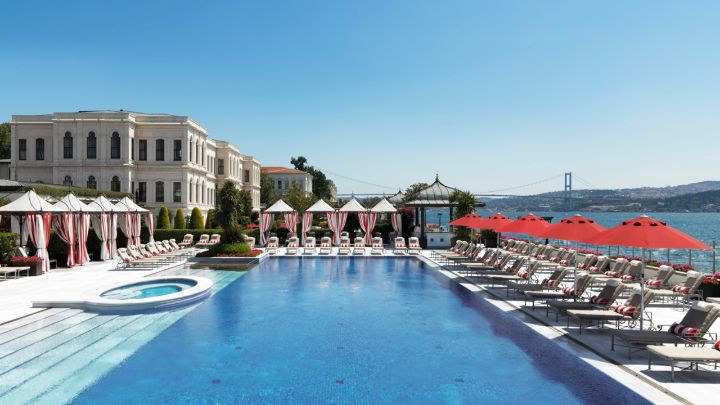 The pool is 27 meters long and 1.40 meters deep. The entrance fee of the pool, which is open every day between 08.00 and 19.00, is 112,95$ in the weekdays and 141$ at the weekends. If you're a committed swimmer who likes luxury, a 3-month membership is 1411$.
📍 Çırağan Caddesi No: 28, Beşiktaş
Fenerbahçe Faruk Ilgaz Facilities
Fenerbahce Faruk Ilgaz Facilities that are located in Kadikoy, provides an opportunity for Istanbulites who want to cool off! To chill out and relax a little, you can prefer the ice-cold pool of this facility. If you want to have a snack after enjoying the pool, you can taste the delicacies of Divan  Patisserie.
The facility in Fenerbahçe is open every day from 09.00 to 18.00. Entrance fee on weekdays is 10,69$ and weekends is 14,26$.
📍 Fenerbahçe Mahallesi, Tur Yolu Sk. No:10, Kadıköy
Çırağan Palace Kempinski
Çırağan Palace Kempinski is home to one of Istanbul's most beautiful swimming pools, where you can enjoy the view of the Palace and the Bosphorus. In fact, when looking straight from the edge of the pool, it seems to be united with the sea.
The daily admission fee is 180,72$ at the weekends and 112,95$ on the weekdays. This includes using a limited part of spa services, too. The 33×16 meter pool depth is only 1.20 meters. The pool is open from 07.00-20.00 every day.
Just open Google Maps and check the view. It will not take more than a second to be amazed!
📍 Çırağan Caddesi No:32, Beşiktaş
Grand Hyatt Istanbul
The free-form turquoise pool in Grand Hyatt Istanbul offers a relaxing resort during the summer months, surrounded by a secluded garden right in the center of the town. You can go and relax with such all-day treatments in the pool and double your comfort. You may want to try some summer delicacies from the pool bar and restaurant of Grand Hyatt Istanbul, Gazebo, after a relaxing and refreshing time at the pool. One of the many treats not to be missed is a special summer menu with cocktails and other delightful creations, delicious ice creams, and desserts, as well as the signature summer sandwiches by the chef.
The pool, which serves between 08:00 and 19:00 every day in June-September, is waiting for Istanbul residents who want to cool off. One-off entries are 30,29$ on weekdays, 44,45$ on weekends. The seasonal usage fee of the pool is 445,5$.
📍 Harbiye Mahallesi Taşkışla Caddesi No.1, Şişli
Hilton Istanbul Bomonti
Hilton Istanbul Bomonti wins the hearts of those who want to keep in shape with a semi-Olympic swimming pool overlooking the city. Daily entrance fee of the pool is 26,70$ on weekdays and 35,60$ at the weekend. For couples, daily admission is 48$ on weekdays, and on weekends the fee goes up to 60$. The swimming pool is open from 8 am to 8 pm.
📍 Merkez Mahallesi, Silahşör Cd. No:42, 34381 Şişli/İstanbul
Related Questions
Where can we have a beach wedding in Istanbul? If you want to get married on a beach in Istanbul, you can check these three places first: Kilyos Beach, Tırmata Beach and Solar Beach. However, it would be better to call and check out other beaches, too.