Istanbul is a city accommodating 16 million residents as well as millions of tourists. In such a metropolitan city, there are a lot of restaurants and other options to feed every stomach and are compatible with any taste. Yet, basic economics would approve that as the choices are increased in number, it will be harder to decide what to choose. So, what should you eat and where should you eat it in Istanbul? I provided this guide for you to decide!
Is There Life After Breakfast?
Sütiş
---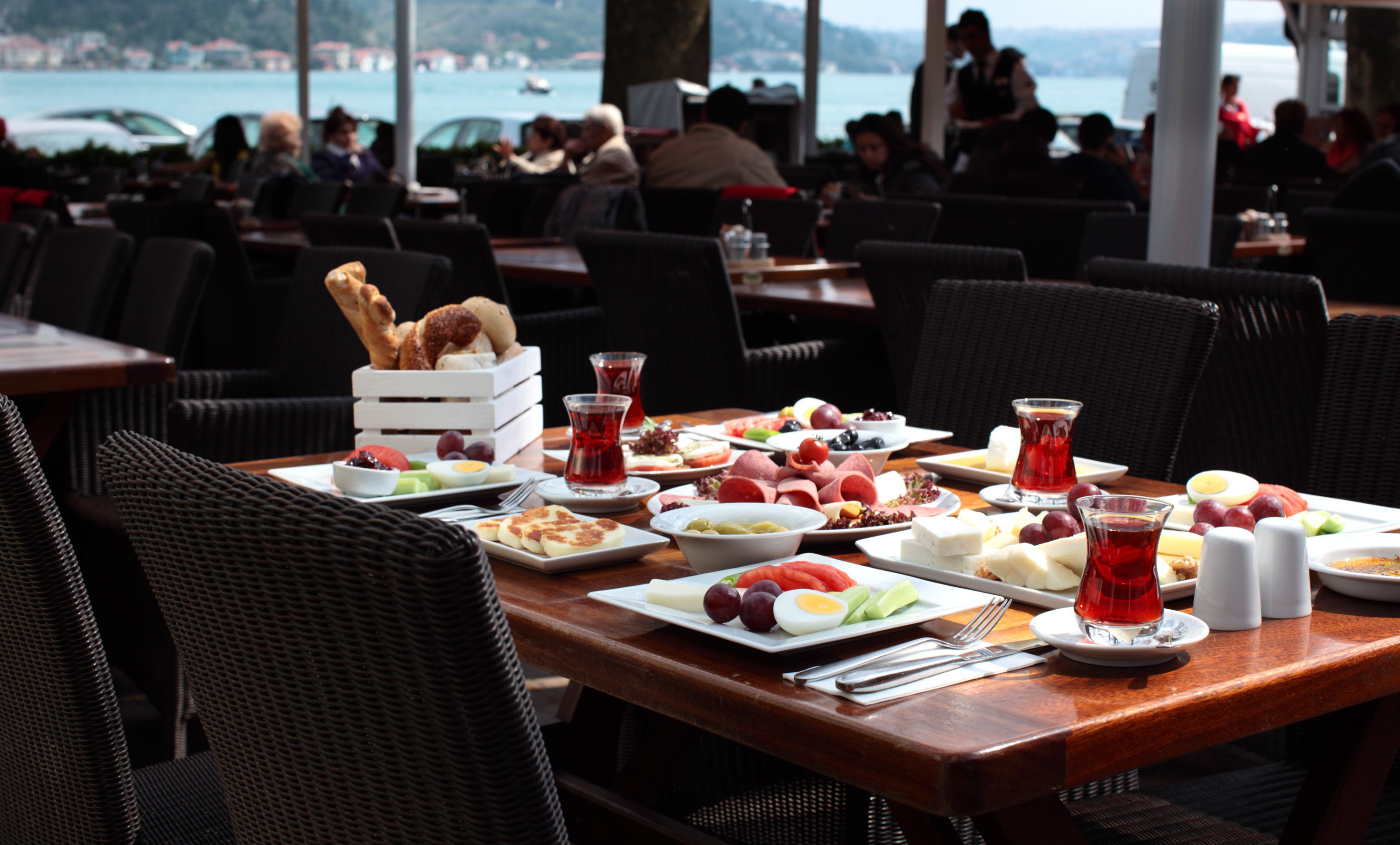 ---
It is one of the most well-known places to have breakfast by the Bosphorus in Istanbul. The price you need to pay for this good breakfast is 60 TL per person. If the price is too much, right upstairs there is another café called Sheesha, which is not the best café but has a better view, fewer people and cheaper breakfast than Sütiş. (In 2017, it was only 25 TL.)
Note: If you want to calculate the price in dollars, just divide it by 5,5.
📍 Emirgan Mahallesi, Sakıp Sabancı Caddesi, No: 46, Sarıyer, İstanbul
☎️ 0212 3235030
Çınaraltı Historical Tea Garden
---
---
Having breakfast at this tea garden is maybe one of the most Istanbulite things ever. What is awesome about this place is that it is located directly by the sea, it is extremely cheap and you can take your breakfast from outside and just order tea! You can buy some 'börek' from the pastries on the way and enjoy paying almost nothing and enjoying the sea weather. If you like cats, there will be a lot of them to accompany you, too. The only disadvantage of this place is that you cannot use a credit card.
📍 Çengelköy Mahallesi, Çınaraltı Camii Sokak, No 4, Üsküdar, İstanbul
☎️ 0216 4221036
Munchies Crepe & Pancake
---
---
One of the most popular breakfast venues of recent times is the Munchies. It has to be its quite alluring pancake and the sweet breakfast next to it. If you're tired of the classic breakfast, you should go and try it. Pancake currently costs 15 TL whereas you need to pay 25 TL for breakfast.
📍 Caferağa Mahallesi, Moda Caddesi, No 147/A, Kadıköy, İstanbul
☎️ 0216 3363039
Siyah Cafe & Breakfast
---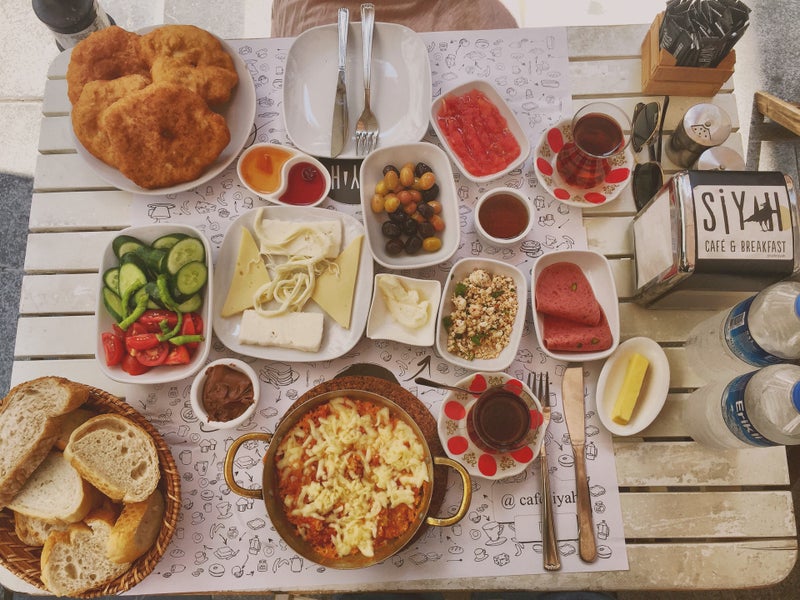 ---
Siyah Cafe is a breakfast place in Besiktas distinguished with its unique decoration. It is a place to visit due to its reasonable prices. Breakfast plates vary from 8 to 15 TL depending on the place you choose. Mixed breakfast (Serpme kahvaltı in Turkish) for two is 30 TL. It also has a pretty sympathetic staff team.
📍 Sinanpaşa Mahallesi, Çelebioğlu Sokak, No 33/A, Beşiktaş, İstanbul
☎️ (+90)5325539986

Namlı Gurme
---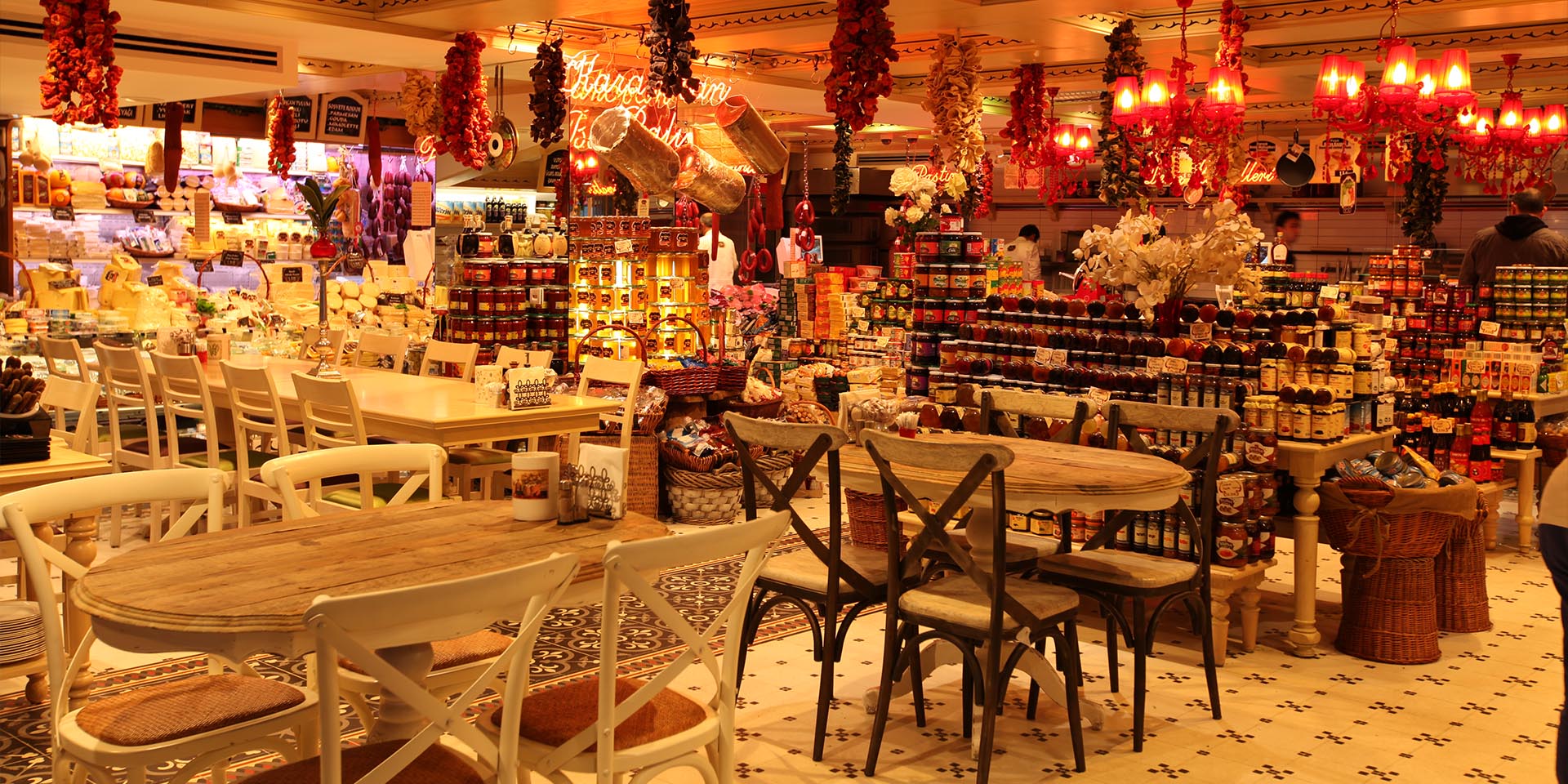 ---
Namlı Gurme is one of the most beautiful breakfast places in Istanbul. There is no shortage of parking, the food is very tasty and fresh… There's not much to say about this place, really. Even though sometimes you need to wait 15-20 minutes to find a place, it's worth waiting. Lastly, the average cost of breakfast may vary between 25 – 40 TL per person.
📍 Kemankeş Karamustafa Paşa Mahallesi, Rıhtım Caddesi, No 1/1, Katlı Otopark Altı, Beyoğlu, İstanbul
☎️ 0212 2936880
The Crepe Escape
---
---
This place is very famous for its pancakes. There are so many different kinds of pancakes that one must go and try each one of them. The ambiance and seating area are also very delightful. But you have to be willing to pay at least 30 TL.
📍 Caddebostan Mahallesi, Bağdat Caddesi, Beyaz Akasya Sokak, No: 4, Kadıköy, İstanbul
☎️ 0216 4082305

Big Chef's
There is not only one breakfast option in Big Chefs. You can choose breakfast from the menu according to your hunger and breakfast taste. According to the menu you have chosen, the price varies from 17 TL to 40 TL per person.
---
---
Unlimited tea service is available until 13:00 during the week and 16:00 at the weekend.
📍 Tarabya Mahallesi, Yeniköy Tarabya Caddesi, No 80, Sarıyer, İstanbul
☎️ 0212 2627070
Gurme
---
---
Those who get tired of Istanbul's crowds can come here. Prices are a little more appropriate than Namlı Gurme. You do not pay more than 40 – 45 TL per person.
📍 Başakşehir 2. Kısım Mahallesi, Doğa Park Caddesi, Gölet Park, No 11/D-E, Başakşehir, İstanbul
☎️ 0212 6081811
Van Breakfast House
---
---
Van Breakfast House do not need many words. It's the favorite place of many people with its variety of breakfast and side breakfast options. You can get out of the table by paying 25 – 35 TL per person according to the food you eat. Don't worry about getting enough food, as you may not be able to finish everything they bring to the table. Tea is endless and so is the bread. Certainly worth the wait if you get there during a busy weekend.
📍 Kılıçali Paşa Mahallesi, Defterdar Yokuşu, No: 52, Beyoğlu, İstanbul
☎️ 0212 2936437
Mangerie
---
---
If you want to have breakfast on a terrace in Bebek, watching the beauty of the sea, you should definitely come here. The great taste of the food is known by everyone, and the price of breakfast is around 50 TL per person.
📍 Bebek Mahallesi, Cevdetpaşa Caddesi, No 69, Kat 3, Beşiktaş, İstanbul
☎️ 0212 2635199
Happy Moon's
---
---
It is a very pleasant restaurant that leaves people generally satisfied with its ambiance and food. Service staff is very caring.  When it is crowded, this situation does not affect the service speed. This is probably because they have a lot of employees. The staff is harmonious, apparently, love their job and eventually increase customer satisfaction. The price of the breakfast varies from 20 TL to 40 TL depending on the menu.
📍 Caferağa Mahallesi, Bahariye Caddesi, Nazmi Bey Sokak, No 5/C, Kadıköy, İstanbul
☎️ 0216 3498422
Huqqa
---
---
Breakfast options here are very varied. The content is reasonably rich, visually appealing and of high quality. You can have a lovely breakfast accompanied by a great view. Service attendants are very caring and motivated. You need to pay 64 TL for the fixed breakfast menu.
📍 Kuruçeşme Mahallesi, Muallim Naci Caddesi, No 56, Beşiktaş, İstanbul
☎️ 0212 2650666
Chilai
---
---
Chilai Bebek is another quality place to have breakfast by the coast. Although this place is a bit expensive compared to other breakfast places, you get a service worthy of your money and you have a view that's worth it. Here, the price of breakfast plates start at 60 TL and omelet prices start at 22 TL. They serve breakfast until 4 pm.
📍 Bebek Mahallesi, Cevdetpaşa Caddesi, No 60, Beşiktaş, İstanbul
☎️ 0212 2636315
Pişi Breakfast & Burger
---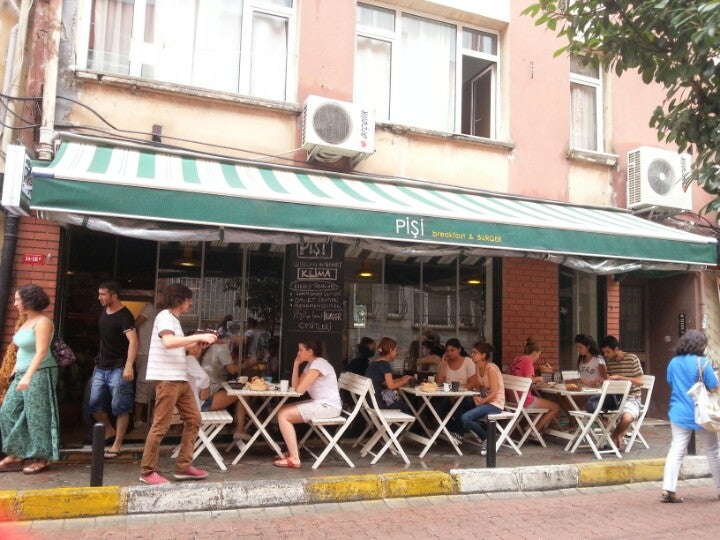 ---
When it comes to breakfast, Beşiktaş is the first place that comes to mind. Followingly, Pişi Breakfast comes to mind when talking about Beşiktaş. For this reason, sometimes it is not possible to find a place inside. If you have a little patience, you can taste the delicious meals and other breakfast products. The price is 30 TL per person.
📍 Sinanpaşa Mahallesi, Çelebioğlu Sokak, No 14/16-B, Beşiktaş, İstanbul
☎️ 0212 3277190
Kirpi Cafe
---
---
A cozy cafe with 2 floors and a heated garden that makes you feel like you are in your own home. The staff is extremely kind. I recommend you to go. You will not want to get up. The price of breakfast is 74 TL for 2 people.
📍 Koşuyolu Mahallesi, Mehmet Akman Sokak, No 31, Kadıköy, İstanbul
☎️ 0216 3390905
Lokma
---
---
With its wonderful location right by the sea, this place is one of the best to enjoy your breakfast with the view of Bosphorus Bridge. Despite the usual jam, the staff is very welcome from the moment you enter.  The prices are fair and very affordable. The menu is abundant and offers many options. It covers international cuisine as well as Turkish food. Breakfast price is 45 TL per person.
📍 Rumelihisarı Mahallesi, Yahya Kemal Caddesi, No 12, Rumeli Hisarı, İstanbul
☎️ 0212 2657171
Kruvasan
---
---
One of the favorite places for a delicious breakfast. Inside is a bit small and cramped. Therefore, it'd be better not to go with a big group. They have great croissants and they serve them hot from the oven.
📍 Teşvikiye Mahallesi, Avukat Süreyya Ağaoğlu Sokak, No 10/D, Şişli, İstanbul
☎️ 0212 2968656
Cuppa
---
---
Cuppa is the best breakfast place for the people of Cihangir. There are at least twenty choices in the mixed fruit juices menu. Especially the French Toast with Nutella is the favorite choice of the people who love sweets.
📍 Yeni Yuva Caddesi No: 22 Cihangir
☎️ 0212 249 5723
Ada Breakfast
---
---
If you go to Istanbul, you cannot return without exploring the Islands. Especially in Büyükada, Heybeliada and Kınalıada, there are many places to visit and see. Ada Breakfast constitutes one of the best answers to the question of where to eat in Istanbul. The fresh air you breathe will make you even more hungry.
📍 Akdemir Sokak, No:9, Büyükada
☎️ 0216 382 1662
Küff Bahariye
---
---
If you are looking for a delicious, hearty and affordable breakfast, this is the place you are looking for. However, as it is very busy at weekends, you may wait 20-25 minutes at the door. The ingredients in the breakfast are of good quality and satisfying. For 2 people, you pay a really good price which is 60 TL.
📍 Osmanağa Mahallesi, Ali Suavi Sokak, No:18/A, Kadıköy, İstanbul
☎️ 0553 2257717
Lunch&Dinner
Kantin
---
---
Simple dishes, delicious delicacies… Kantin feasts on people living in Nişantaşı, and the menu changes daily. It is also possible to take home bread, cheese, sauce and dolma from the market downstairs.
📍 Akkavak Sokağı No: 30 Nişantaşı
☎️ 0212 219 31 14
House Cafe
---
---
House Cafe attracts its guests with its special place by the sea in Ortaköy. In the presence of such a wonderful atmosphere, they offer you a variety of dishes.
📍 Vişnezade Mah. Salhane Sok. No: 1 Beşiktaş/İstanbul
☎️ 0212 227 26 99
Kırıntı
Kırıntı, which stands out with its fast service and reasonable prices, reminds of the old American cafes as interior design. Featuring free Wifi, a smoking area, and delicious food, Kırıntı is the ideal place for a delicious, pleasant and convenient breakfast in Kadıköy. Whether you are sitting outside, enjoying the fresh air and the atmosphere of Moda, feel yourself at home with the beautiful interior music and spacious design.
📍 Caferaga Mahallesi, Moda Street, Ferit Tek Street, No 21 / A, Kadikoy, Istanbul
☎️ 0216 346 07 70 
Çiya
---
---
If you want to taste Turkish food from the city of Urfa to Antakya; from Siirt to Cyprus: Çiya is your place.
📍 Güneşli Bahçe Sokak 43, Kadıköy
☎️ 0216 330 3190
Hünkar
---
---
Hünkar serves both modernized Turkish and Ottoman cuisine in Nişantaşı. Compared to a lot of artisan restaurants, the dishes are delicious, the portions are ideal. Every material used is carefully and meticulously chosen. Expectedly, the prices are very high.
📍 Mim Kemal Öke Caddesi No:21, Nişantaşı
☎️ 0212 225 46 65
Ara Kafe
Ara Kafe is the place of the famous photographer Ara Güler. In this case, it is inevitable for the regular customers to be artists, photographers, and creative people.
📍 Tomtom Mahallesi Tosbağ Sok. No.2 Beyoğlu
☎️ 0212 245 41 05 
White Mill
---
---
If you are one of those people who like to live in greenery especially for the summer months, you can visit White Mill.
📍 Susam Sokak No:13 Cihangir
☎️ 0212 292 28 95
Sultanahmet Köftecisi
---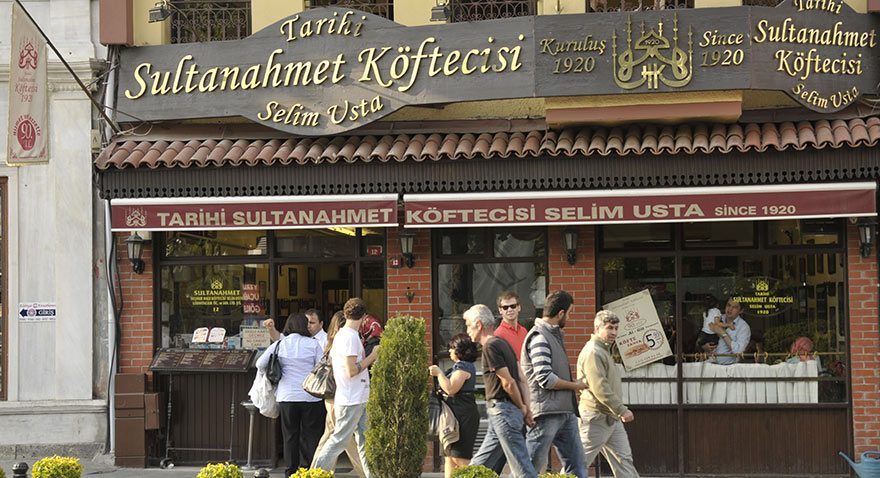 ---
Sultanahmet Köftecisi is one of the places that make the best meatballs. You must try this place which is a brand known to every Turk. On the menu there is a stewed or plain meatball, on the side, there is semolina halva.
📍 Divanyolu Caddesi No: 26 Sultanahmet
☎️ 0212 522 97 85
Yakup 2
---
---
Yakup 2, one of the best taverns in Istanbul, is always in a different place with its intellectual customer portfolio. If you want to catch the atmosphere, go there in the evening (It's a tavern after all!). The most famous dishes of this place include mincemeat, ground liver, mushroom sauté. Reservation beforehand is compulsory.
📍 Asmalımescit Sok. No:35/37 Beyoğlu
☎️ 0212 249 2925
Balıkçı Sabahattin
---
---
Balıkçı Sabahattin is one of the best fish restaurants in Istanbul with its service, appetizers, snacks, and treats. Rice with clams, lantern roasting, and squid grill should be definitely tasted.
📍 Seyit Hasan Kuyu Sok. No:1 Cankurtaran
☎️ 0212 458 18 24
Hamdi
---
---
A great place for a kebap in Eminönü. For a place with an amazing terrace view seeing the bridge and Galata Tower, the prices are not astronomical. Especially kebab with pistachio is highly recommended.
📍 Tahmis Caddesi, Kalçın Sokak No:17 Eminönü
☎️ 0212 528 03 90
Zübeyir
---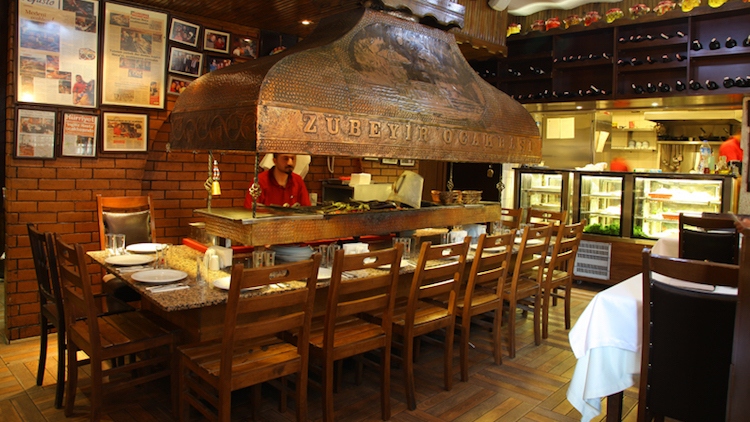 ---
A very successful restaurant located on Beyoglu Bekar Street. The appetizers are nice, the kebabs are very delicious… Especially the trout skewers, ribs, and fried eggplant must be tried. The waiters are also very warm and friendly. The prices seem reasonable.
📍 Bekar Sk. No: 28 Beyoğlu
☎️ 0212 2933951
Delicatessen
---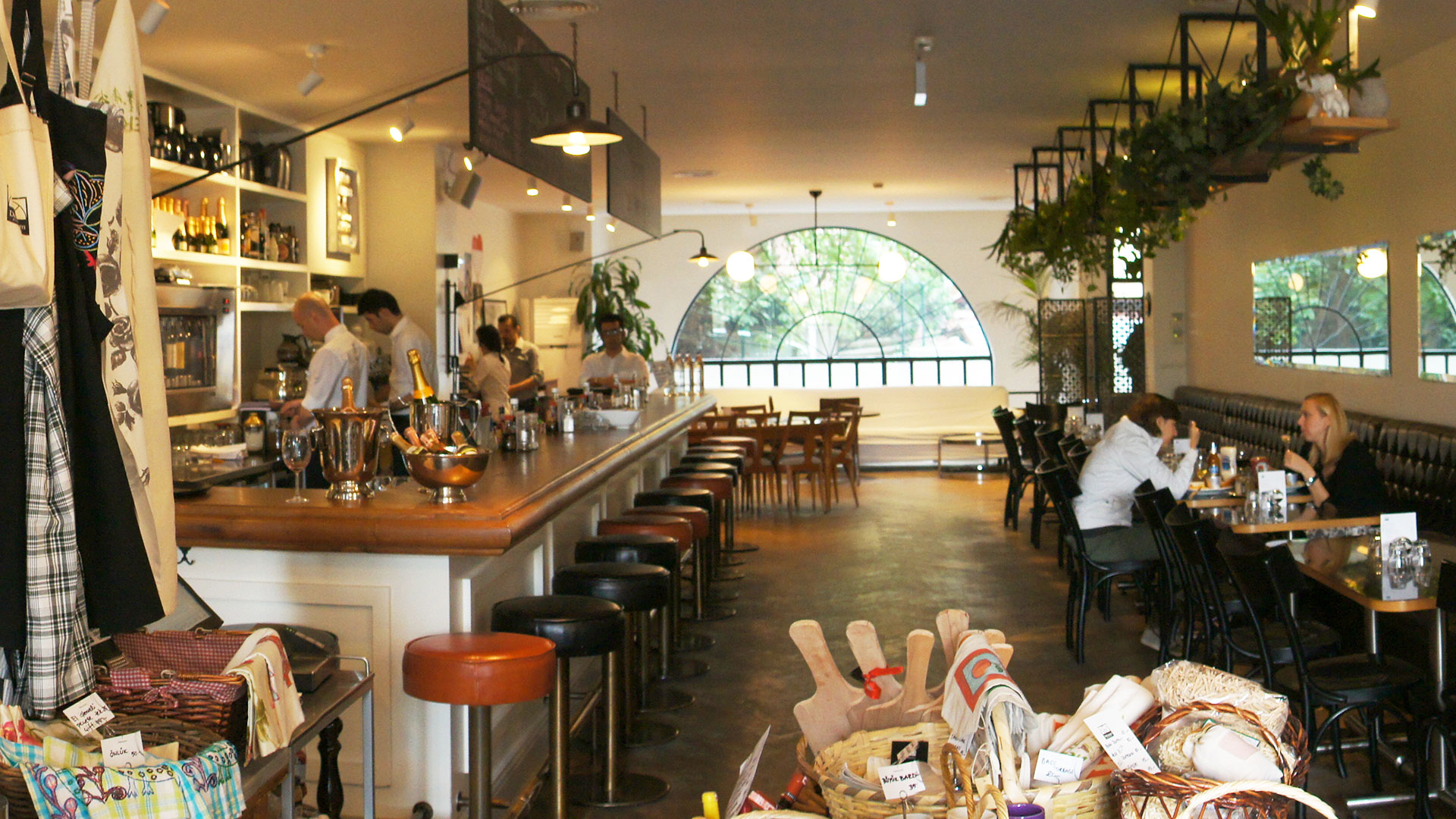 ---
Delicatessen is a French-style bistro. After the salad with shrimp, you should enjoy a large piece of beef that comes with the potato in the oven. If you arrive in the afternoon, you can taste the freshly baked cake as well as come across to the Happy Hour.
📍 Mim Kemal Öke Cad. No.19/1 Nişantaşı
☎️ 0212 225 06 04
Nusret (Salt Bae)
---
---
Salt Bae is not only famous due to his shows on social media but also the delicious types of meat they serve. The taste is so good that it'll feel like it's your first time eating meat. If you are like, the Salt Bae himself will serve you personally!  
---
---
📍 Çamlık İhsan Aksoy Sokak No: 6 Etiler
☎️ 0212 265 30 37
Leb-i Derya Kumbaracı
---
---
You can have the magnificent Istanbul view from the fifth and sixth floors: facing towards the Golden Horn, the Marmara, and the historical peninsula. You can have a great night with nice food and alcoholic -or non-alcoholic- beverage. One important thing to mention is that the kitchen is closed after 23 pm, therefore they cannot provide hot dishes after that hour. Recently, this place has turned into something more like a tavern, but this did not affect the quality. Try not to go without a reservation.
📍 Şahkulu Mah., Kumbaracı Ykş. No:57, 34425 Tünel/Beyoğlu/İstanbul
☎️ +90 541 366 84 80
Fine Dine İstanbul
A fabulous restaurant in which you can find everything. The staff is very respectful and professional, the food is tremendous, and the view is amazing. You are facing the legacy of Byzantium and Ottoman Empire while eating your perfect meal. The menu of the restaurant offers exclusive recipes from Ottoman to modern Turkish cuisine.
---
---
📍 Binbirdirek Mh., İmran Öktem Cd. No:1, 34440 Fatih/İstanbul
☎️ 0212 516 96 96
Zuma
---
---
Zuma is the best address for fusion cuisine lovers. Having been the international representative of the contemporary Japanese cuisine and an award-winning restaurant, Zuma is ideal for people who are seeking an evening meal with a rich menu and a warm atmosphere.
📍 İstinye Mahallesi Bayır Çıkmazı İstinye park No:461, 34460 Sarıyer,İstanbul
☎️ 0212 236 22 96
Street Food
Grilled Fish Sandwich
Eminönü
---
---
The first place that comes to mind when it comes to the grilled fish sandwich is, of course, the historic place in Ragıp Gümüşpala Avenue, Eminönü. You can have adrenalin-filled minutes to grab an empty chair in the crowded area to eat your awesome sandwich.
Karaköy
---
---
The second most famous district for eating a grilled fish sandwich is Karaköy. After well-through internet research, I decided that the best place you should go to is Balıkçı Emin. The fisherman adds great spices to the delicious fish and increases your overall experience!  
Kokoreç
This is such a meal that you will either love it or hate it. Many people are cautious about eating it as it is made of lamb intestines. Of course, the intestines are cleaned internally and externally: however, I advise you to find a good place and eat it there. Then, the intestines are mixed with various spices such as oregano, salt, pepper, and tomatoes. Lastly, they are cut into small pieces over and over again and put into a sandwich bread.
---
---
If you love the taste, there is a good chance that you will be addicted to it and will be searching for it especially after a night out drinking.
Street Bagels
---
---
If you want to eat Turkish bagels, which we call 'simit', you will not have a hard time finding the stands selling them as they are strolling around at every corner of the city. The bagels are expectedly super cheap and filling, therefore they are a good choice if you're on budget and hungry. (Or just because you love the taste!) In order to maximize satisfaction, you can eat them with cream cheese while drinking ayran or tea along with it. What would make it even better is that taking a ferry and feeding yourself and the seagulls until you reach the coast!  
Turkish-Style Churros
---
---
Halka tatlısı is a Turkish dessert where the fried dough is served in a sweet syrup. It is also easy to find buffets selling this dessert on the streets. The fun fact about this dessert is that it is known as 'brothel dessert' among the locals.  I suppose it used to be sold in front of brothels to give you the energy that you need before entering?
Lastly, please eat this dessert when it's hot!
Sweet Corn
---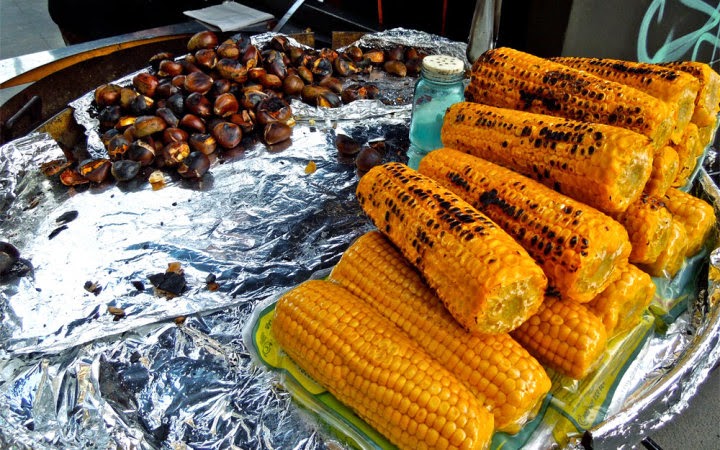 ---
This type of corn which is loved by many people is rather juicy and served when it's hot. There is not much to explain as it's…corn. However, I may elaborate on 2 serving styles. You can either buy the whole corn and eat it by applying salt on it, which is the traditional way of eating it. Or, you can buy corn grains which are served in a glass and add almost anything on it from ketchup to pomegranate sauce. 
Kumpir
Kumpir is a portion of traditional street food, mainly sold in Ortakoy, Istanbul. It is said that the name comes from the Croatian word 'krumpir' which means potato. Yet, the Turkish interpretation is a baked potato which you can fit universes in! 
---
---
Kumpir is not like any other street food. In fact, there are restaurants selling kumpir at high prices. Eating kumpir will not only silence your stomach but also make it full!
Stuffed Mussels
---
---
I do not even know where to start with this as it is an indescribable, splendid flavor. Some may even call it a drug, as you get addicted to it. Even talking about stuffed mussels may make one's mouth watery. You may start with one, then two, then three… until you reach eating at least ten portions.
Wafers
---
---
The wafer (paper halva) was once the most famous taste of Istanbul. The lovers share a halvah on the street and enjoy. Although there is not much left now, it is still possible to find wafers in the old neighborhoods and summer neighborhoods.
Steak Tartar A La Turca (Çiğ Köfte)
---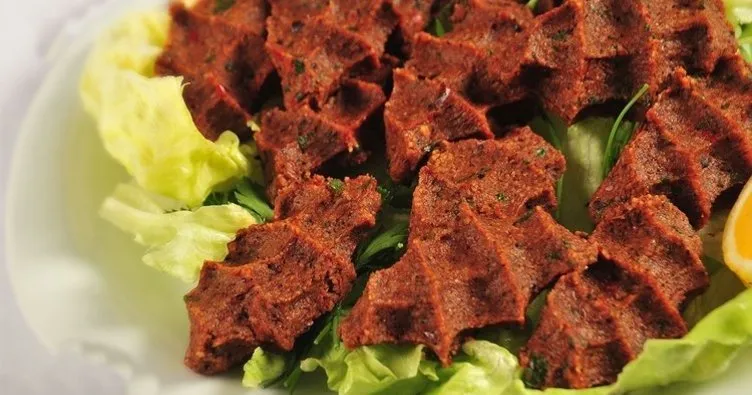 ---
This is one of the most common street foods that every Turkish person has surely eaten at least once in their lives. This type of meatballs is usually made with beef or lamb, but only the vegetarian variety with bulgur is served in Turkish restaurants and fast food spots. Therefore, we can say that the main ingredients are bulgur, onion, tomato paste, hot red pepper paste, and salt. If you are vegan or vegetarian, this could be the best option for you! It goes the best with pomegranate sauce, lemon and additional hot spices. Do not forget to get some napkins as your nose will be flowing.
Cooked Rice (Pilaf)
---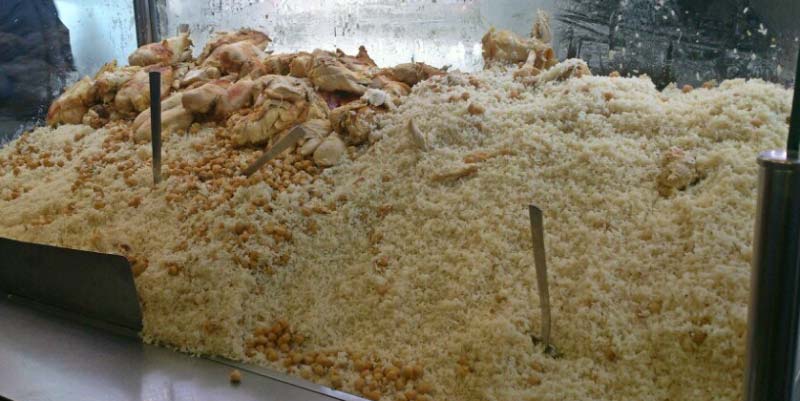 ---
There are many options to eat rice: with liver, salad, chicken, chickpeas, meat… If the cooked rice itself is delicious, it will turn into a feast with the additional ingredients.  In İstanbul, you can find food carts selling cooked rice 24/7. Most of them are located in Kadıköy, the hipster center of İstanbul, where many youngsters eat pilaf either before the night starts, or right after the night out almost ends… Either way, rice with chicken is probably one of the best things that you will be eating.
Cotton Candy
If you want to take a nostalgic ride back to your childhood, you can find people selling cotton candy around the coasts.
Dessert
Karaköy Güllüoğlu
If you ask a Turk what the best baklava place in Turkey is, they would directly mention the brand 'Güllüoğlu.' Moreover, they are not only operating in Turkey but also in 5 other countries! Today, you can find them in New York, New Jersey – Cliffside Park, Miami, Los Angeles, Amsterdam, Düsseldorf, Brussels, Riyad, İstanbul, Bursa, İzmit and Ankara.
---
---
According to this foundation, the adventure of Güllüoğlu baklava begins with the combination of flour, butter, peanut as well as handicraft of the master. Baklava dough is one of the most challenging processes. That is why it takes an 8-10 year period to educate a baklava master. Even this definition proves how much effort they put into creating excellent baklavas.
They provide lots of different types of baklava according to your taste. What's shocking is that there is also baklava for people with diabetes!
📍 Rıhtım Cad. Katlı Otopark Altı No: 3-4, 34425 Beyoğlu
☎️ (0212) 249 96 80
Zeynel Muhallebicisi
Zeynel Muhallebicisi began to work in 1925 as a tiny business located in İstinye Pier and turned into a family business where the ownership passes from father to son. All sorts of dairy desserts can be found here. If you are a lover of light desserts like me, you can try pudding with a caramel base (kazandibi), chicken breast pudding (yes, that's a thing), and water pudding. Zeynel Muhallebicisi has branches in Caddebostan, Feneryolu, Viaport, and Ataşehir besides Yeniköy.
Fatih Sarmacısı
---
---
Fatih Sarma, which is sold in a small shop at the back door of Fatih Mosque, took its name from Fatih Sultan Mehmet (The Conqueror of Istanbul.) The rumor has it that the Sultan used to order this dessert after every meal. It is a fat-free light dessert, with apricot marmalade inside a roll. Yet, there are various other types, too. I would like to say that not even most of the locals do not know this dessert, so you are one of the lucky ones for reading this post!
📍 Ali Kuşçu Mahallesi, Aslanhane Sk. 14/A, 34091 Fatih/İstanbul
☎️ (0212) 521 40 85
İnci Patisserie
---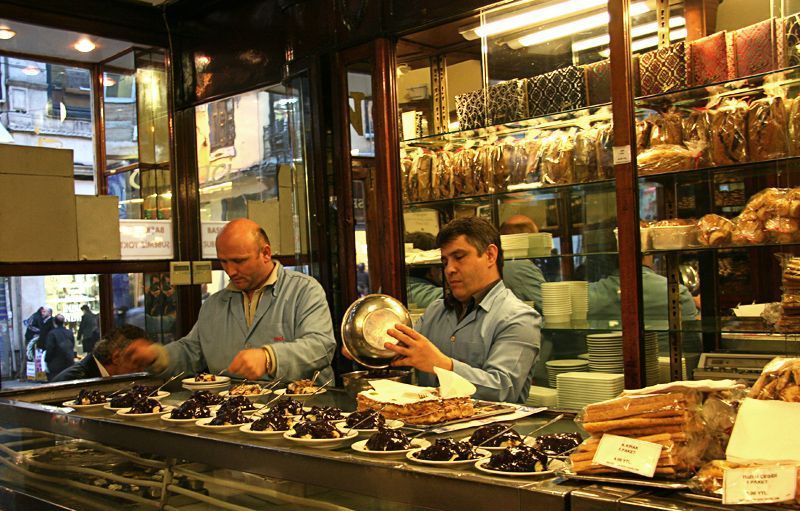 ---
In 1944, İnci Patisserie opened its doors in the historical building of Cercle d Beyorient by Luka Zigoris. Today, the patisserie is famous for its profiterole. The price of one portion is 15 TL. It's definitely worth the money.
📍 Şehit Muhtar Mahallesi, Mis Sk. 18/A, 34435 Beyoğlu/İstanbul
☎️ (0212) 243 24 12
Baltepe Patisserie
Baltepe Patisserie is one of Fatih's oldest bakeries. The patisserie, which started to serve in 1930, offers typical Rumelian delicacies. This place is known for its tres leches cake, and they even claim that they were the first ones to provide this dessert in Istanbul. It's worth a visit, isn't it?
📍 Atikali Mahallesi Yavuz Selim Cd, Müstakimzade Sk. No:33/A, 34087 Fatih

☎️ (0212) 521 66 56
Ab'bas
---
---
Ab'bas is known for its delicious waffles. In Bebek, they provide 35 different kinds of waffles. Not to mention, they use 10 varieties of chocolate, fresh seasonal fruits, and various sauces to make waffles.  Waffles are made according to customers' request.
📍 Bebek Mh., Cevdet Paşa Cad. No 46/C Bebek, 34342 Beşiktaş/İstanbul
☎️ (0212) 263 00 05
Savoy Patisserie
---
---
Savoy Patisserie is a paradise with its unique tastes, small sandwiches, pastries, cheese blends. However, the best product may be its crispy and creamy millefeuille cake. This place is so well-known that the rent of the apartments nearby had increased due to their proximity to it!
📍 Cihangir Mahallesi, Sıraselviler Cd. 91/A, 34433 Beyoğlu/İstanbul
☎️ (0212) 249 18 18
Tilla
When it was first opened, Tilla produced and sold only lokma and profiterole. However, in time, they started to specialize in Ottoman desserts. Yet, this did not change the fact that they are still one of the best producers of lokma dessert and profiterole in Istanbul.
---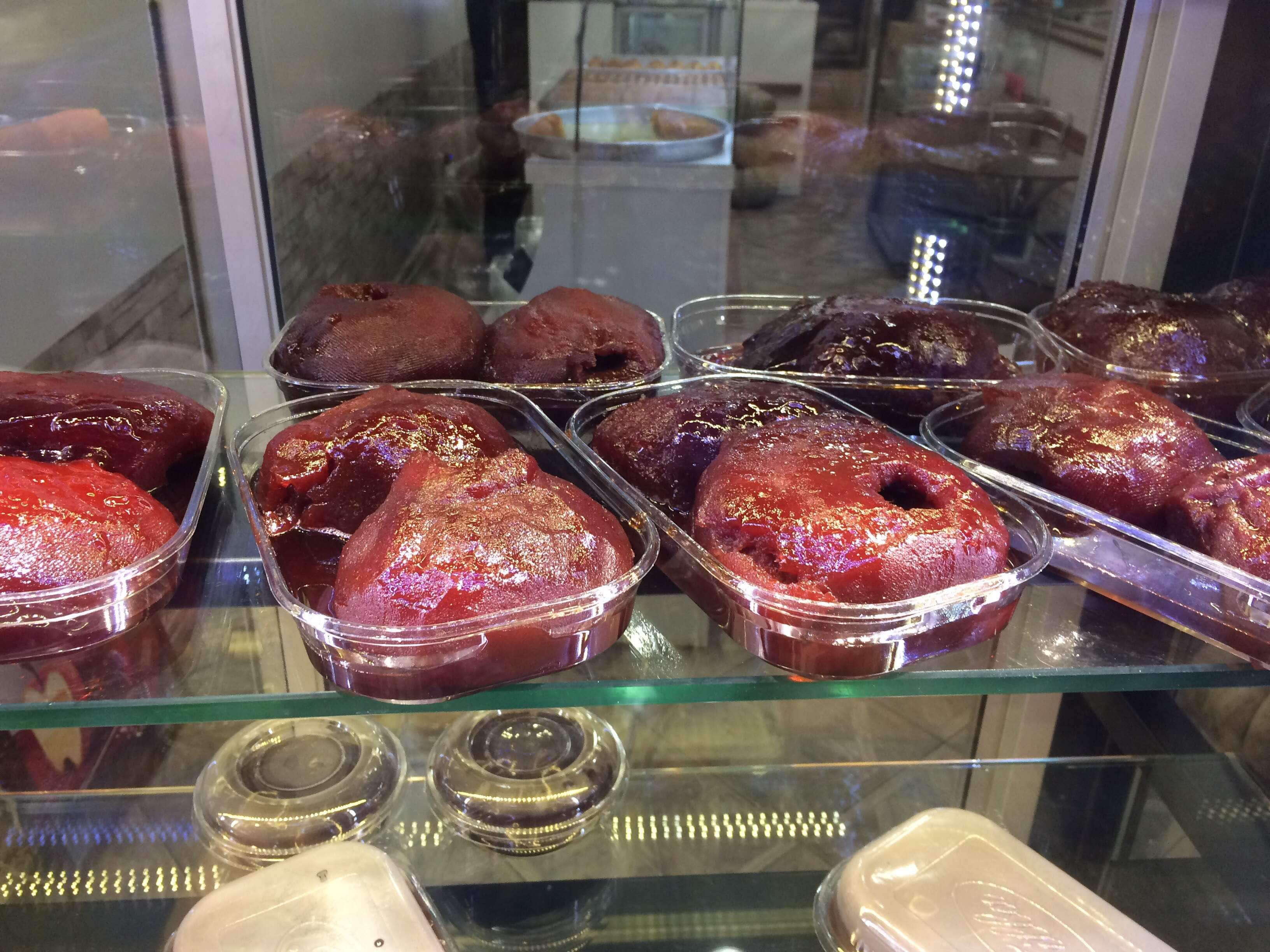 ---
The distinguishing feature of this place is that they avoid using harmful substances such as food coloring, corn syrup, and other ready-to-use substances.
📍 İstasyon Caddesi, No:18, 34000
☎️ (0216) 386 00 50
J'adore Chocolatier
---
---
The smell of chocolate will enchant you as soon as you enter this place located in Beyoğlu. The dessert 'Beatrice' is the specialty of this place. It is an amazing taste with its cake softer than the clouds, chocolate, banana and strawberry particles spread on top of it. Oh, la la! You may also want to try their chocolate cake, soufflé, and apple pie. Go there if you are an untameable chocolate addict, and taste these delicacies while listening to French music!
📍 Asmalı Mescit Mahallesi, Emir Nevruz Sk. 22/F, 34421 Beyoğlu/İstanbul
☎️ (0212) 249 03 33
Related Questions
Which is the cleanest place in Istanbul to eat kokorec? These places are safest among the others: Güneş Kokoreç (Üsküdar), Çengelköy Kokoreççisi (Üsküdar), Özkral Kokoreç (Maslak), Saray Büfe (Bağdat Avenue).
Where to eat in Istanbul Airport? As it has opened very recently, you may not find a lot of restaurants to eat inside the airport. As of today, there is only one functioning restaurant.