---
With its unique natural areas, İstanbul offers many choices for those who want to run after a good evening or early Sunday morning. By doing so, you can escape from the stress and chaotic atmosphere of this crowded city.
---
---
If you think a full day exercise and spend your full day the place you will go, Princes Islands and Belgrade Forests are perfect choices for you. After the run, you can have a picnic or have a good coffee under the sun without any daily life problems and technology making you more stressful on weekdays.
On the other hand, you might want only to spend your night running and refresh for the coming day. There are many opportunities in İstanbul for it, which are located in the center.
For instance, Yildiz Park and Macka Park are the places you can easily reach and return to your home after running. There are also many seaside options on the Asian side of İstanbul such as Caddebostan and Uskudar.
Here are 12 beautiful and attractive places to run in Istanbul:

---
Princes Islands
---
There are many islands in İstanbul named as Princess Islands: Kinaliada, Heybeliada, Burgazada, and Buyukada.
All offers you a good escape from the crowded big city life but for a long time running, Kinaliada and Burgazada are not that much suggestable because they are such a small island with no straight roads.
---
---
When it comes to Heybeliada ana Buyukada, you can see many people running there regularly. The length of the track is quite fit to run. I am sure you will enjoy the views when running, too.
However, it might be good to know that, not only summer but generally on weekends those islands become very crowded with both local people and tourist.
That is why it might be better to go there on weekdays. if you have no chances to expect weekends, it is better to choose to go in the early hours so that you may be able to run more comfortably.
Both of them are worth to experience for a good start of a day or week.
How to get to Princes Islands in Istanbul:

You can take a ferry, operated by Şehir Hatları, from Kabataş in European side and from Kadıköy and Bostancı in Asian side and stops by all four islands.
If you will go to the islands from Taksim and Sultanahmet, you can take F1 Kabataş-Taksim funicular so that you can reach Kabataş from Taksim. Or as a second choice, you can take T1 Kabataş-Bağcılar modern tramway from Sultanahmet to reach Kabatas. After that, you can take a ferry, and you will be in Buyukada within maximum one and a half hour.
However, as I stressed in the beginning, Princess Islands are such a popular place to go. Especially weekends, it might be quite hard to go a sit on the ferry.
Therefore, I suggest you take a ferry in an early hour, especially if you're planning to go on a weekend.
By doing so, you will not have to wait a long queue until you get on. You will see that the inside of the ferry will be quite crowded. There will be even people sitting on the stair. Yet, you will see all are happy with their own condition too.
If you ask me personally, I also love that one hour journey full of crowd and noise because I feel kind of commonalities among all passenger, which aims a good and peaceful day.
---
Balat Beach

---
Istanbul has many historical stories with old streets. Balat district is one of them. Today, you can see many people with professional cameras in Balgat streets to take authentic photos. This is such a good place.
When it comes to run, Balat Beach is a good idea with its track which is 3 km long. You can discover many new places by running there.
---
---
By doing so, it will not be only a sports activity for you, but a kind of visiting historical places such as Iron Church in Balat.
Apart from that, you can face many people on the beach fishing. The combination of the sea and those fishermen are worth to see.
After being done with your run, you should go to the rich streets of Balat and should have a cup of coffee or tea. Be careful about that you can see some famous singers or artist in the street of Balat when walking around!
How to get to Balat Beach in Istanbul:
Balat, that is the neighborhood of Istanbul once known as the Jewish quarter of the city, is located in the Europe side of İstanbul. Today you can still find many synagogues here, as well as a more diverse group of residents there.
If you will come from the Asian side, you can arrive at Eminonu first by ferry and then you can reach Balat by bus from Eminonu, which takes between ten and fifteen minutes.
If you are in the Europe side of İstanbul, you can go Eminonu or Fatih, and take a bus. Eyup is also good choice to reach Balat since it takes only ten minutes by bus.

---
---
Belgrade Forest

---
İstanbul with its wide area has many forests. Belgrade Forest is one of the most popular ones to escape from the city, which is one of the greenest places in Istanbul and covers an area of 5,300 hectares of land full of oak, beech and chestnut trees.
It is a pretty good choice with its attractive track for those who like to run in the woods. There are many groups also to go there for a run.
What makes Belgrade forest a good option is about the fact that you can fully feel the oxygen while running whilst the green surrounds you, which is that the ground is suitable for all levels of a training program.
Yet, it is such a long track that is 7 km. Therefore, if you want to finish all, you should be careful and take a rest enough and you should drink enough the water of the fountain located in the forest during your 7 km track!
Good news is the forest is open 24 hours during all weeks including Saturday and Sunday.
---
---
II. Uzunetap Night Runs

---
Uzunetap Night Runs has been organizing since 2010 as the first international multistage ultra-marathons of Turkey, such as Lycian Way Ultra Marathon, Runfire Cappadocia Ultra Marathon, and Runfire Salt Lake Ultra Trail.
Uzunetap Night Runs is one of the yearly organizations connecting people from all age groups with nature and sports so that it can unity people to organize better quality, more heated, fun and challenging races.
Started for the first time on December 21 in 2013, with Longest Night, Uzunetap Night Runs are now on various dates throughout the year!
It will be one of the most unforgettable running experiences for you if you will be a part of it.
This year, there are three different stages for it:
---
---

23 March 2019, Saturday Belgrad – 6K / 12K
15 June 2019 Saturday Belgrad – 6K / 12K
7 September 2019, Saturday Belgrad – 6K / 12K
 How to get to Belgrade Forest in Istanbul:

Belgrade Forest is located in Sariyer district. If you are in the Asian side of İstanbul, you can take IETT from Kadikoy ( whose bus number is 42HM), or Uskudar ( with 59 RK named IETT busses).
The bus named 42HM comes to Kadikoy by passing from Haciosman and Taksim, so you can get on from these bus sitations if you are in the Europe side of İstanbul.
Contact
Adress: Bahçeköy Merkez Mahallesi, 34453 Sarıyer/İstanbul, Turkey
Tel: +90 212 226 13 14
---
Bostancı- Fenerbahçe Jogging Track

---
Bostanci- Fenerbahce is an area famous for Sukru Saracoglu Stadium that belongs to Fenerbahce Football team.
The sea view is so attractive here in the Asian side of İstanbul, which is one of the reasons making it one of the most preferred tracks in İstanbul.
The road is 5 km in total. It is possible to walk or run on the hiking trail, ride your bike. As just mentioned, you will see one of the most beautiful parts of the track you can ever see because you will run alongside the sea
---
---
The energy and warmth of local people who do run regularly are quite spectacular. That will make you feel not alone, but a kind of collective exercise with other people running.
How to get to Bostancı- Fenerbahçe Jogging Track in Istanbul:
If you are in the Europe side of İstanbul, I suggest you go across, Uskudar or Kadikoy to transfer Bostancı- Fenerbahçe Jogging Track first. After being in Kadikoy or Uskudar, you can take IETT busses.
However, you should be aware of that Kadikoy is the nearest places to Bostancı- Fenerbahçe Jogging Track; so it is better to go Kadikoy first, instead of Uskudar.
Afternoon or early morning running there is my favorite, but you can arrange your own schedule according to your personal program.
---
Ataturk Arboretum
---
If you dream to spend you weekends a place full of trees and oxygen, Ataturk Arboretum is a good choice for you and your family.
Actually, it is now known by many people living in Istanbul but I am sure you will feel more relax and enjoyed when arriving there. The Atatürk Arboretum located on a vast area of 296 hectares is in the southeast of the Belgrad Forests in Sarıyer district.
It has a different story how to take its name. When it was established on a 39-hectare site in 1949 and in 1982, it was named as the Atatürk Arboretum, for the 100th birth anniversary of Mustafa Kemal Atatürk, founder of the Republic of Turkey.
---
---
I suggest you go there both in spring and autumn so that you can see a variety of different plants and flowers.
How to get to Ataturk Arboretum in Istanbul:
If you have time, you can go to Belgrade Forest and Ataturk Arboretum on the same day because it takes only five minutes from Belgrade Forest.
You can take IETT busses from Taksim or 4.Levent by 42T IETT bus. There is also IETT bus line from Bogazici University, which are 42HM Bahçeköy-Hacıosman, 59RK Rumelihisarüstü Boğaziçi Üniversitesi – Arıköy, and 153 Bahçeköy-Sarıyer.
Address: Kemer Mahallesi, 34450 Bahçeköy, Sarıyer, İstanbul
Tel: 0 (212) 226 1929
Emirgan Park

---
Emirgan Park is one of the attractive and peaceful sides of the Asian side of İstanbul. In fact, the jogging track in Emirgan Park is very pleasant and small.
Especially in the month of April, you can see many colorful tulips in this park because of the Tulip Festival. It is such a short track which is 1 km so it is better to go early especially on Sunday to see there before it is getting too crowded.
---
---
How to get to Emirgan Park in Istanbul:

For those who are on the Europe side, they can arrive Sultanahmet or Kabatas, and then take the modern tramway from there. After that, the bus 25E will take you directly Emirgan. There also another alternative named as the hop-on-hop-off Bosphorus cruise. You can also take it for 15 TL for a more comfortable trip.
There are also many buses going to Emirgan park from Mecidiyekoy and Besiktas. You can also try those options.
If you will go there by using your own car, or other alternatives like a taxi; here is the location address for you:
Address: Emirgan Korusu Emirgan, Sarıyer, Istanbul, Turkey
Tel: +90 212 277 57 82

---
Florya Ataturk Ormani
---
Florya Ataturk Ormani is one of the popular forests where everybody goes especially on weekends. It is an ideal place to run, but there is no place like a small shopping center to buy something to eat or drink.
That is why I suggest you bring all the things you need before arriving in the forest. This green space in Florya can provide you with some calm and relaxation. I promise that you won't regret visiting this place for a nice weekend.
---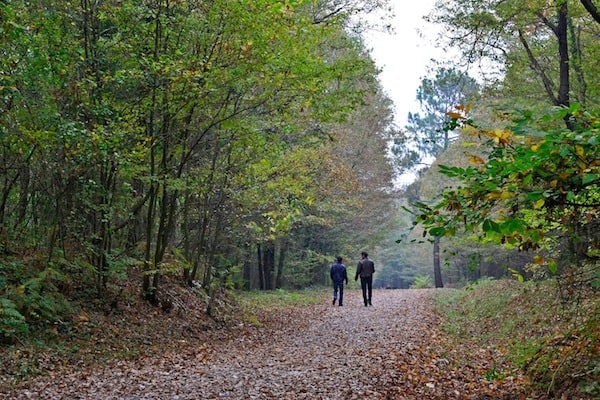 ---

How to get to Florya Ataturk Ormani in Istanbul:
It is located in Bakirkoy and you can take 73F – 73T IETT line to reach there.
If you go there from the Asian side of Istanbul, you can take Metrobus and get off the station named Bakirkoy, and then you can take
73F ve 73T IETT line bus.
---
Maçka Park

---
Maçka Park is such a big park that many chooses every day for jogging. The other reason why it is practical is about its location.
It is very close to Taksim, Osmanbey, Nişantaşı, Şişli, Beşiktaş, which makes people easily reach there, not only, for example, Sunday mornings, but also for weekdays afternoon. It is a big advantage for city people working a lot.
As I said, although it is near Taksim and Nisantasi, you do not feel like you are in the center of the city. The thing you feel in the park is the peace of silence and full of oxygen.
---
---
There are so many trees in the park and this might lead to some windy weather conditions from time to time. Yet, if you are one of doing medium level training and not long hours, this location is suitable for you.
How to get to Macka Park in Istanbul:
You can go to Macka Park by IETT bus from Sariyer, Besiktas, or Eyup. If you are near Kabatas, you can take Taksim Funicular Metro Line to reach Taksim. After that, you can already arrive at Macka Park by walking.
For those who plan to go the park from the Asian side of İstanbul, it might be better to reach Findikli or Taksim, and Besiktas so that they can easily find an IETT bus to go Macka Park.

---
---
Dalyan- Pendik Coast

---
If you want to run by being a witness of a wonderful waterside run along the Marmara on the Asian side, Dalyan- Pendik coast is waiting for you!
There are palm-lined waterside paths through a series of parks, very green and good water views most of the way.
The track is almost 6.5 km (4 miles) jogging track.
---
---
 How to get to Dalyan- Pendik Coast in Istanbul:
It is just near from Fenerbahçe Park. After coming to Kadikoy, you can take Metro: M4; this train line runs close to the path, so you will see this coast after getting off.
---
---
Moda Beach

---
Moda Beach is an attractive place with unique coffee places and restaurants around it. It is located between Kadikoy and Kalamis.

The track here is a 1.2 km long track on the Anatolian side. I am pretty sure that you will enjoy running on Moda beach with the sea weather and the view it offers you.
How to get to Moda Beach in Istanbul:

To reach Moda Beach, you can walk through there from Kadikoy, but it is not that far. It takes like 30 minutes, which is not really preferable before running. That is why you can use nostalgic tramway or IETT bus from Kadikoy.
To go Moda Beach from the Europe side of Istanbul, you can take a boat from Besiktas or Eminonu to arrive at Kadikoy. After that, you can take nostalgic tramway or IETT bus from Kadikoy. You can also reach to Kadikoy by using Marmaray from Sirkeci or Zeytinburnu. You should get off the station named Sogutlucesme.
---
---
Üsküdar Beach

---
It is an option on the Asian side of İstanbul. The Üsküdar coastline offers you sea view together with the Maiden Tower after your run.
Actually, this line is quite crowded because it is located on just the center of USkudar, but if you do not have so much time, you can choose to run along this way and can have a cup of coffee or a glass of tea against the Maiden Tower.
How to get to Uskudar Beach in Istanbul:
You can take Marmaray from Sirkeci and arrive at Uskudar Beach if you will go there from the Europe side of İstanbul. As another choice, you can take a boat from Besiktas or Eminonu, and be in Uskudar within 15 minutes.
If you need to go Uskudar Beach from the Anatolian side, you can take an IETT bus or metro. Luckily, there are many options to reach Uskudar from this side.
---
Polonezköy Nature Park

---
Polonezkoy is one of the natural places in İstanbul not located in the center. It might take a bit longer to go there, but I ensure you about the fact that you will not regret, it will all be worth.
This is the right place to go for a nice run with an abundance of oxygen. You should also have a nice breakfast after being done with your run. Apart from running, you can also ride your bike in the park.
The track here is 5 km long track and a bit rugged with slopes. It is located in Beykoz district. For your information, the park took the name of Nature Park on the 31st of March in 1994.
It opens every day between 07.00 am and 12.00 pm.

---
---
How to get to Polonezköy Nature Park in Istanbul:
If you plan to have a long day, you should bring many things together like clothes and food. Therefore, it is better for you to drive your car. However, if there is no chance for it, you can take IETT 15KÇ – 135G – 136 bus from Üsküdar.  
For those who will go by their own car, here is the address. You should use the Fatih Sultan Mehmet Bridge to make the road shorter.
Contact

Adress: Polonezköy Tabiat Parkı 34820 Polonez – Beykoz / İstanbul
Tel: +90 312 207 50 00
---
Yıldız Park (Star Park)

---
Yildiz Park with plenty of trees seems like Belgrade Forest. It is a super choice for those who love running in nature and do not have so much time since it is nearest than Belgrade Forest or other ones.
Having located around Besiktas district, between the center of Besiktas and Ortakoy, there are many young people here, generally high school and university students.
---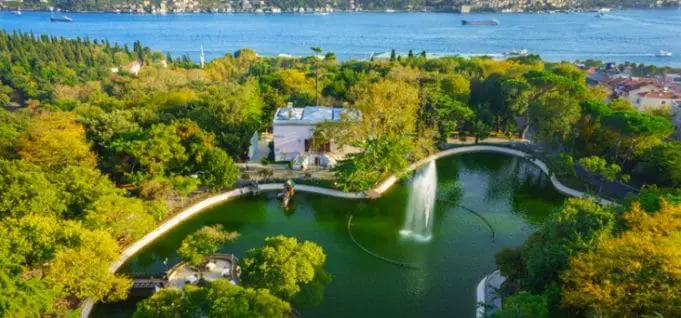 ---
In fact, Yildiz park is a nice choice to run and have a small picnic after it. It is suitable for cross training and advanced runners with its facilitation.
How to get to Yildiz Park in Istanbul:

The easiest way to go, Yildiz Park, is to walk from Besiktas or Ortakoy. If you plan to go from the Asian side of İstanbul, you can take a boat from Uskudar or Kadikoy, and arrive at the shore of Besiktas. After there, it already takes maximum 15 minutes to walk.
It is also the same directionn when you walk from Ortakoy.
---
---
Other Alternative Places to Run in Istanbul

---
Apart from those given in detailed places, there are also small areas to run and have fun, if you intend to have a good evening with your close friends.
For Europe side of Istanbul, you can go Karaköy, Galata, Eminönü,Sultanahmet, Taksim, Kuruçeşme, Bebek, Rumelihisarı, Tarabya, Yeniköy to have a small run.
---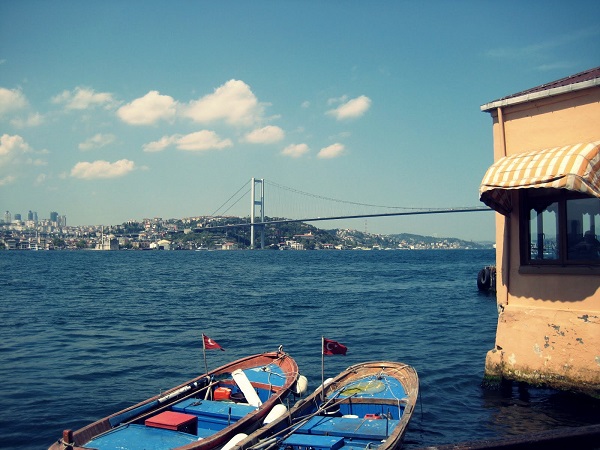 ---
On the Asian side, you can find many areas just near the sea views such as Caddebostan, Kadıköy, and Kuzguncuk.
I do not know which one you will love more, but all of them makes me feel a unique experience whenever I go there to run. I hope you will also feel the same!
---
Running Groups in Istanbul

---
If you do not like running alone, or if you are looking for a group for a great job, there are many running groups in İstanbul that you can be a part of it in order not to face the chaotic grind of traffic in İstanbul.
These groups will bring you beautiful areas. I am sure you will have fun with running enthusiasts together for special routes.
---
---
Team Istrunbul

---
Team Istrunbul's goal is to bring athletically impassioned people together from the very advanced to very beginner. Therefore, you are newcomers for this field, you can easily join these groups without any hesitation.
I was formed by people who are willing to run with enormous passion. As a group, they meet three to four mornings every week, which depends on the weather conditions.
After the workout, Istrunbul offers you a good breakfast in one of the beautiful places of İstanbul, depending on where to go for the run. This group includes many people from various places, so there is no reason not to be a part of it!
---
Nike Run Club

---
Unlike Istrunbul, The Nike Run Club is an international group. That means this group has clubs in many cities around the world.
It is not surprising since it's associated with one of the world's most popular sportswear brands. You might even see sometimes in front of your house a group of people running together with trendy workout outfits That is special for this particular club.
---
---
The route is so long for them; the running events very often on both the Asian and European sides alongside routes. It is for sure that they are both scenic and runner-friendly.
If you want to be a part of it, you can check news and updates out on their website for all upcoming jogging sessions and be informed after signing up.
---
Istanbul Koşu Kuvvetleri (the Running Forces of Istanbul)

---
Istanbul Kosu Kuvvetleri, known also as the Running Forces of Istanbul, is a group of people who aim to protect nature against the destruction of urbanization.
Having been one of the city's best running clubs there are many running professionally. If you intend to attend one of the even, the club's weekly schedule is on Tuesday and Thursday.
---
---
Members of groups try to attend almost every event. You should also see some of Istanbul's most scenic routes by running with good people.
---
Bu Kızlar Nereye Koşuyor (Where Are These Girls Running To)

---
This group is generally made of women running to get relaxed. They are not a professional group but they love not to be a serious professional group and the purpose is to have fun and keep healthy.
The other reason why they run together is that Bu Kizlar Nereye Kosuyor meets often for runs around the city as well as athletic charity events.
---
---
You can see some updates on their Facebook for the latest events. It is nice to know that they make a sports exercise into a social charity event.
There are also some other running groups in İstanbul. They can be listed as Koşuyoruz, Hareket Candir, and Adidas Park Run.
---
Free Group Workouts in Istanbul
---
If you are willing to run regularly by being a member of a running group, here are some useful pieces of information so that you can search more and contact them.
Adidas Runners İstanbul Group will welcome you when you contact them on Facebook or download Runtastic application to follow events at various locations in Turkey and beyond.
You can follow @reeboktr on Instagram so that you can keep up with the outdoor workout schedule. Pre-registration is not required for most events, so you can join them to try for the first time, and make your decision.
You should follow @asicsruntr  follow on Instagram and Asics Run Turkey on Facebook for up-to-date running and functional workout programs. I strongly suggest you Asics group if you want to be a part of a professional group.
It is a small organization like a boutique organization. You can find out about their events and learn more about them by following @beatruncrew on Instagram and to register email [email protected]
---
2019 – 2020 Races Held in Istanbul

---
Geyik Kosulari by Night Trail Run
---
A night trail run, that is an off-road running race held typically on trails on varied terrain, takes the runners around lakes, through forests, mountains or deserts, runs can be just a few kilometers long or take the form of an ultra-marathon or week-long trekking tour.
If you can not run because of personal reasons, you can be a part of this great adventure by volunteering, which might be a perfect experience for your personal development.
---
---
To register to race, you should sign in website first by clicking Click on the "User Login | Register", write your user name and password (Email – e-mail, Sifre – Password, Giris yap – Sign in). After you logged in, you will see your name inside the black bar is the right up of the page.
What to do in this step is to click on it and choose "My Registrations". You will see courses will list at the left of the page.
2019 Calendar for Geyik Kosulari is listed below:
17th February 2019 I. Geyik Koşuları
22th June 2019 Geyik Koşuları by Night
13th October 2019 II. Geyik Koşuları
8th December 2019 III. Geyik Koşuları

---
Vodafone Istanbul Half Maraton

---
The Vodafone Istanbul Half Marathon is organized by Istanbul Metropolitan Municipality and it is scheduled to Sunday, 7th April 2019.
While Half Marathon (21K) will start from Yenikapi will continue from the beach to Kumkapi, the lights in front of the Sirkeci ferry pier and the race will return from the coast road to Zeytinburnu Veliefendi turnout 10K course will use the same route as the semi-marathon and will make a "U" turn on the road 2 hundred meters before the circus lights and will end in the Yenikapi rally area.
Registration fee for 21K

​15 January – 15 February: 50 TL
16 February – 29 March: 75 TL
Registration fee for 10K
15 January – 15 February: 50 TL
16 February – 29 March: 75 TL
If you are willing to be a part of it, the entries will be opened on January 15th, which means it is started already so please follow the instructions on the Registration page.
---
---
Vodafone Istanbul Marathon

---
This race will be held on the third of November in 2019. The details and other requirements will be announced later. Here are the contact pieces of information for you to follow the news about the famous Vodafone İstanbul Marathon:
This is an organization sponsored by the Istanbul Metropolitan Municipality organization. This event has started with the intention that was simply to organize a marathon event in 1978.
---
---
Until today, the Bosphorus Bridge has been a witness this marathon every year. The runners have crossed from Asia to Europe.
In this race, every year we see many professional and non-professional runners like children to attend for the enjoyment. There were also some famous athletes such as Ian Thompson and Terry Mitchell participated in the Eurasia Marathon, which also became a testing ground for Turkish athletes, many of whom went on to run at international races.
Contact
Adress: Karagümrük Mah. Kaleboyu Cad. No:111 Fatih / İSTANBUL