---
Istanbul with a huge cultural and historical heritage offers you many great opportunities to visit which would take even years. You can have a cup coffee in front of Bosphorus bridge in Otagtepe while you can have a good weekend and ride your bicycle on Princess Islands.
Apart from the places listed above, you can also visit Basilica Cistern and the Blue Mosque in Fatih district, Fethi Pasa Korusu in Uskudar district, and Moda Beach in Kadikoy.
Please do not forget that you will never completely be done about visiting i̇stanbul because of the number of places that are worth to go.

Here are ten top sights for you to visit in Istanbul:
---
---
1.Otağtepe Park
---
The Bosphorus view is surely seen and closer from the point of Otagtepe. This park is arranged in 1997 by the İstanbul Metropolitan Municipality. According to some legends, Fatih Sultan Mehmet had observed the process of conquer from this hill from time to time.
There is no ticket or anything for your car to park when entering this place. You should experience seeing İstanbul panoramically from Otagtepe Park.
Some tips for visiting Otagtepe Park:

I strongly suggest you bring some food and drinks, even water when going there because around the place there is no even a small shop to buy some food and drinks.
---
---
If you have something to have a kind of picnic, there are good green places and some pergolas to sit. Therefore, you can have a great time with your beloved ones.
The view is amazing. It is my favorite place in İstanbul after Rumeli Castle. You should have a professional camera so that you can take many good quality photos. It might be even a good idea to have a friend together knowing how to take good pictures.
How to go to Otagtepe Park:
Otagtepe is located on the Asian side of İstanbul, so you need to arrive at the Anatolian side. Then, you can take the IETT bus. Form Cekmekoy, you can take 11CB, while 522B IETT bus goes to Otağtepe from Dudullu.
If you are in any other part of the Asian side of İstanbul, it would be better to go first Beykoz district where Otagtepe is located, and then take a bus that will probably take between ten and fifteen minutes.
Address: Anadolu Hisarı Mh., Çınarlı Sk. No:41, 34810 Beykoz/İstanbul
---
---
2. Rumelihisari (Rumeli Fortress)

---
Rumeli Fortress was built by Fatih Sultan Mehmet during the conquering to İstanbul in 1952. This Castle is directly opposite to AnadoluHisari so that Ottoman army can do their final attack on Constantinople.
It was already downfall by Byzantine Empire after one year. Rumelihisari is located at the narrowest section of the Bosphorus Strait by being about 600 meters – 1970 feet and occupies an area of 60.000 m2 with 4 main and 1 smaller gate, and 3 large and 1 smaller tower.
There is a small mosque insisted with one minaret, and you can pray inside there. Actually, only the minaret is survived from the past, but still, there is a place to pray to consult later.
Apart from the historical value, the Rumeli Fortress is open today as an open-air museum. Although some earthquakes happened until today in İstanbul, this structure has survived until being a museum starting from 1953 after the final restoration.
Some tips for visiting Rumeli Fortress:

Except for Wednesday, Rumeli Fortress is open between 9.30 am and 4.30 pm every day.
---
---
Although it seems very tired to climb the top ( which is definitely correct), you should stand until the top and see İstanbul from that point.
I ensure you the view you see from the top will forget you all tiredness when climbing. It might be a good idea to have a bottle of water before climbing.
The place where Rumeli Fortress is located, Bebek, is very rich in terms of sea views and other views. You can have a cup of coffee after visiting Rumeli Hisari against the Bosphorus view.
If you have time, you can visit Bosphorus University just near there. You will also see the famous college, Robert College is just located there. If you are one of those loving running or walking seaside, you can walk even until Ortakoy.
You should consider that walking from Rumeli Fortress to Ortakoy take around two hours, so you should prepare yourself and your friends accordingly.
The ticket price 15 TL. However, Muzekart is valid there, and for those who are below 1 and above 65, there is necessary to have a ticket.
How to go to Rumeli Fortress:
You should go around there first because it is located in the Sariyer district. For instance, Taksim and Besiktas might be practice by taking IETT bus 40T, 42T, and 25E. You can take these busses from Mecidiyekoy central bus station, too.
The new metro line to Bosphorus University is also a good option. After getting off Bosphorus University station from the metro, you can walk down and arrive at Rumeli Fortress.
Address: Yahya Kemal Caddesi No:42, Rumelihisari / Sariyer
Tel: (212) 263 53 05

---
---
3. Galata Tower

As being one of the icons of İstanbul, this tower will be unique of your Istanbul adventure. You can see Galata Tower at night from almost all over the city with its colorful lights.
There are some stories about when the Galata Tower was built. For example, after Byzantine Emperor Justinian around 507 CE, the tower was built that was known as the 'Christea Turris,' or the Tower of Christ while the Byzantines referred to it as the 'Megalos Pyrgos,' or the Great Tower at that time.
The last version of the building was taken during the Genoese period by the colonies of the Republic of Genoa, which served as a series of economic and trade posts in the Mediterranean and the Black Sea.
With the effect of the serious earthquake In 1509, the tower was heavily damaged, and it was restored by the famous Ottoman architect, Hayreddin, who also built the renowned Sultan Bayezid II complex in Edirne.
There were even times during the reign of Ottoman Sultan Süleiman the Magnificent, the tower was used to hold prisoners who were sentenced to work at the Kasımpaşa Naval Dockyard.
Some tips for visiting Galata Tower:

The famous story about Galata Tower is shortly like this according to the legendary Ottoman aviator Hezarfen Ahmet Çelebi: Hezârfen Çelebi flew from the top of the tower to Doğancılar Square in Üsküdar with wings attached to his arms.
Apart from that, because of this spectacular feat, Sultan Murad Khan allegedly grew suspicious of the man and sent him to exile in Algeria. If you are planning to climb the tower with your friends and children, you can mention them about this story.
The other legend is about couples climbing Galata Tower. According to legend, if couples climb this tower fist together, it is for sure that they will get married to each other. Due to this story and more, many gentlemen promises and ask for holding hand his girlfriend in the top of this tower. The atmosphere together with the view is quite suitable for it.
---
---
There is a restaurant on the top. You can have a portion of good food in this restaurant, or as another option, you can roam Istiklal Street after climbing the tower, and have some food after shopping or your cultural trip.
Galata Tower opens between 9 am and 7 pm. However, except early mornings, the queue is too long. You should go there morning to go easily and take the fresh air from the magnificent point. Although some people love the night view, I think the morning version of Istanbul is quite better, and you should experience there early morning.
How to go to Galata Tower:
Galata Tower is located in Beyoglu district which is one of the center points of İstanbul. Therefore, there are many ways to reach there.
From Eminonu or Istiklal Taksim Square, you can walk to Galata Tower. Or you can take a nostalgic tramway from both places.
From Mecidiyekoy or other metro station, you can take Taksim-Halicioglu Metro Line and get off Taksim. After there, just walking two-three minutes, you can see this attractive tower.
Address: Bereketzade, Galata Kulesi, 34421 Beyoğlu/İstanbul
---
---
4. Suleymaniye Mosque

---
Suleymaniye Mosque was built between 1550 and 1557 with pleasing setting and plan of featuring gardens and a three-sided forecourt with a central domed ablutions fountain.
It has four minarets with their 10 beautiful şerefes (balconies) are said to refer to the fact that Süleyman was the fourth of the Osmanlı sultans to rule the city and the 10th sultan after the establishment of the empire.
Actually, it's not the largest of the Ottoman mosques, but it is certainly one of the grandest and most beautiful. One of the reasons for this is about the fact that it is unusual in that many of its original mosque complex (külliye) buildings have been retained and sympathetically adapted for reuse.

---
---
Some tips for visiting Suleymaniye Mosque:
There are many places around Suleymaniye Mosque famous for a traditional Turkish food which is kuru fasulye. You should try kuru fasulye from one of the places to see the difference than other places. Please do not forget to have ayran to accompany!
Because the Suleymaniye Mosque is located in an area near Istanbul University, there are many coffee places and cafes around. You can see any young people around it. For instance, Aga Kapisi is one of the famous ones as you can see a big part of İstanbul from a high view taking under your foot.
You can visit Suleymaniye Mosque except for prayer times.
How to go to Suleymaniye Mosque:
Suleymaniye Mosque is located Fatih district which is the Europe side of İstanbul. You can use Kabatas-Laleli Tramway line, and walk after it. Also, you can take 26A, and 28 IETT bus from Eminonu.
Tel: +90 212 5140139
---
---
5. Hagia Sophia Museum

---
High Sophia Museum is called as 'the eighth wonder of the world' by East Roman Philon as far back as the 6th century as being one of the most visited museums and most prominent monuments in the world.
The reason to be that popular is about its historical and architectural heritage. Although the original building was constructed by the most important architects of the period (527-565), Anthemios (Tralles) and Isidoros (Miletus), under the order of Emperor Justinian, and used as a church for 916 years, the status has changed after the conquest of Istanbul by Fatih Sultan Mehmed.
After that time, the Hagia Sophia was converted into a mosque for 482 years. Under the order of Atatürk and the decision of the Council of Ministers, it was converted into a museum in 1935.
Some tips for visiting High Sophia Museum:
The winter visiting hours for the Hagia Sophia Museum is between from 09.00 to 17.00. During the summer, the visiting hours are between 09.00 and 19.00.
Hagia Sophia is open to a visit every day. The winter visiting hours for the Hagia Sophia are from 09.00 to 17.00, with the final entry being at 16.00. During the summer, the visiting hours are between 09.00 and 19.00, with the final entry being at 18.00. Passes are available at the box office in the museum.
High Sophia Museum is valuable for both Christians and Muslims in terms of historical importance. That is why so many people visit here, which result in long queues. It might be better for you to go there early morning so that you will not have to wait for hours.
---
---
How to go to High Sophia Museum:
If you want to try going to High Sophia Museum from the Asian side, there are some easy options for you. From the Asian side of İstanbul, you can take a boat, and then enjoy with Marmara sea beauty when going across by taking a boat. This boat that you are able to take from Kadikoy or Uskudar will take you Eminonu or Karakoy.
Secondly, you can take Metrobus to go across, European side of İstanbul, you should take Metrobus and get off one of the stations of modern tramway such as Edirnekapi.
After Edirnekapi, you should transfer the other tramway in Topkapi station. The name of the metro line that will take you directly to the Blue Mosque station is called as 'Kabatas-Bagcilar Metro Line.' The station you get off named the Blue Mosque is already just in front of the Blue Mosque entrance.
From the Europe side of İstanbul, the easiest and the most common way is to take modern tramway and get off the station named the Blue Mosque. There is already the entrance of the place you intend to visit, and here you go!
If you prefer more to use Marmaray especially when you are near Zeytinburnu in the European side. You can take Marmaray and get off Sirkeci. After finding the exit gate of the Blue Mosque, you will see the minarets of this mosque and the one of High Sofia Museums.
Address: Hagia Sophia Square, Sultanahmet Fatih/İSTANBUL
Tel: +90 (212) 522 09 89

---
---
6. Ortakoy
---
If you attend one of the Bosphorus cruise tours, I am sure you will see Ortakoy located between down-to-earth Beşiktaş and chichi Kuruçeşme. 'Ortaköy' means 'middle village' in Turkish, which is about its location.
Some tips for visiting Ortakoy:
Ortakoy Mosque is the most famous figure in Ortakoy. In all pictures of this place, I am sure you will realize this beautiful mosque with a neo-Baroque building, right on the waterfront that has recently undergone major renovation works. You should visit inside if you want to experience the sea view from a mosque!
Ortakoy is famous for delicious kumpir ( baked potatoes)  and waffle whose portions are too big for one. If you are not crazy for sweet that much, you can share one waffle with your friend.
---
---
When you see the shouting and calling of sellers of baked potatoes and waffle, you should not forget that you do not have to reply. You will see how insistent they are! It is just their way to sell their food, but you should make your decision by yourself.
How to go to Ortakoy:
The easiest way to get to Ortakoy is to take a 40,40T or 42T bus from Taksim, or the 22, 22RE or 25E from Kabatas.
---
---
7. Çamlıca Hill
---
Camlica Hill, which is located in Uskudar district, is one of the places to can see İstanbul from a high point as if you take a deep breath. You will be on one of the highest and most charming places in İstanbul, which is a place with two hills overlooking the Bosphorus and the Marmara Sea.
There are two hills named as 'Buyuk Camlica' and 'Kucuk Camlica'. While Buyuk Camlica is 267 meters above sea level, Kucuk Camlica is 228 meters above sea level.
The name of Camlica comes from the pine trees in the area since Çam means Pine in the Turkish language. According to the book of Turkish historian Ismail Hakki Konyali, both Camlica hills were covered with pine trees so thick that no sunlight could shine through them in ancient times with wildflowers in all colors and poppies.

Some tips for visiting Camlica Hill:
The traditional snack 'gozleme', ice cream and corn on the cob are the things you will see with its kiosks, fountains, tea and coffee shops and some famous restaurants operated by the Metropolitan Municipality of İstanbul. You will like those places surrounded by historic trees, great flora, colorful flowers, and tulips.
For animal and especially bird lovers, Camlica hill is also one of the best locations in Istanbul where the migrating birds can be observed. Bird-watchers from all around the world come here especially in September and October or in the Springtime to watch the birds.
---
---
You should also visit Camlica Mosque which is recently a big project is carried out around Camlica hill to build one of the biggest mosques in Istanbul.
For Ramadan month, you can also climb Camlica Hill and experience the old Ottoman times' atmosphere of Ramadan. You should try ice-cream and pamuk seker. The atmosphere will take you somewhere else than the chaotic and crowded atmosphere of this big city
How to go to Camlica Hill:
If you are planning to go Camlica Hill from the Europe side of İstanbul, you can arrive at Taksim first, and simply take the bus 129T from Taksim to "Turistik Camlica Tesisleri" stop and walk uphill a bit.
From the Asian side of İstanbul, you can take IETT bus numbered 11 US from Uskudar. Also from Kadikoy, you can take other IETT busses that are called 14R, 14, and 13.
Address: Kısıklı Mahallesi, Çamlıca Tepesi, 34692 Üsküdar/İstanbul
Tel: (0216) 443 21 98
---
---
8. Dolmabahce Palace

---
Dolmabahce Palace is one of the important building in İstanbul since in one of the sections, harem section, is the room in which Mustafa Kemal Atatürk – founder of Turkish Republic- stayed, and where he eventually died.
Dolmabahce Palace served as the administrative center of the Ottoman Empire until 1922, after being built in 1986. It was designed by Armenian architect Karabet Balian and his sonNikoğos Balia with many rich architectural styles including Baroque, Rococo, Neoclassical and modern Ottoman.
When it comes to 2014, the National Palaces Painting Museum (Milli Saraylar Resim Müzesi) opened in an annex of the palace, containing 202 fine examples of late 19th and early 20th century paintings.
Some tips for visiting Dolmabahce Palace:
The entrance fee is 40 TL. There is also an additional tour if you want extra explaining when visiting the palace.
The Dolmabahce Palace opening hours are Tuesday-Wednesday and Friday-Sunday between 9am-4pm.
It is important to know that the founder of the Turkish Republic, Mustafa Kemal Atatürk died in this palace. That is why the clock remains set to the time he died, 9:05 am on November 10, 1938. Moreover, the whole of Turkey comes to a standstill in remembrance every year at this time.
There are many other famous structures because of its location that is between Besiktas and Kabatas. You can also visit nearby places Dolmabahce Palace such as the neo-baroque Dolmabahçe Camii (Dolmabahçe Mosque), the Dolmabahce Clock Tower, the Palace Collections Museum, and Istanbul Naval Museum.
---
---
How to go to Dolmabahce Palace:
You can walk from Besiktas or Kabatas to Dolmabahce Palace. Or alternatively, you can take a modern tramway from Eminonu or Karakoy, and get off in the last stop which is Kabatas.
Also, from Taksim, there are many IETT bus passing from Dolmabahce Palace. The place it is located is so central. I think you will not face any problem when searching for the location.
Lastly, the Istanbul cruise port is in Karakoy near the Galata Tower, just like 3km away from Dolmabahce Palace. Therefore, Driving time takes only 6 minutes to go to the palace via taxi.
Address: Vişnezade Mahallesi, Dolmabahçe Cd., 34357 Beşiktaş/İstanbul

---
---
9.Maiden's Tower (Leander Tower)

---
Maiden's Tower is, known also as Kiz Kulesi, located off the coast of Salacak neighborhood in Uskudar district. There is a very famous legend about this tower.
According to the story, the Byzantine emperor heard a prophecy telling him that his beloved daughter would die at the age of 18, and it will be because of a snake. After this, he made a decision that is to put his daughter in Leander Tower tower built on a rock on the Bosphorus isolated from the land so that there will not be any snake could kill her.
---
---
However, it did not work accordingly, and she couldn't escape from her destiny after all. A snake hidden in a fruit basket brought from the city but the princess and killed her at the end of the story.
Some tips for visiting Maiden's Tower:
If you want to have a romantic night with your girlfriend or boyfriend, you can prefer the popular and classy restaurant in Maiden's Tower that offers 360-degree views of the Bosphorus and the old city. I suggest you experience there especially at night.
For an amazing experience, you can have it in Maiden's Tower in the middle of Europe and Asia side of İstanbul with 360 C view of Bosphorus and history 2500 years. I am sure your guests will be impressed a lot.
How to go to Maiden's Tower:
After taking a boat from the Europe side of İstanbul, for example from Besiktas or Eminonu, you will arrive at Uskudar. After the beach of Uskudar, you should walk from the right side. After ten or fifteen minutes, you will see Maiden's Tower.
Also, you can take IETT bus from Kadikoy or Maltepe in the Asian side to Uskudar. After arriving at the beach, it is already for only walking distance.
Lastly, you can take Marmaray from Kadikoy or the Europe side of İstanbul to go to Uskudar. In fact, there is a variety of public transportation alternatives when it comes to going to Uskudar.

Address: Salacak Mevkii Üsküdar 34668
Tel: 0 (216) 342 47 47
E-Posta: [email protected]
Website: http://www.kizkulesi.com.tr/
---
---
10. Princess Islands

---
Princess Islands are the island chain including nine small islands in the Marmara Sea. Some of them are open to the public. They can be listed as Büyükada, which the biggest and most popular one, Burgazada, Heybeliada, and Kınalıada.
People generally prefer visiting Princess Islands to escape from the chaotic atmosphere of the city because motorized vehicles are banned, and it makes the islands an oasis of peace and quiet.
Some tips for visiting Princess Islands:
Bicycles as the main transportation on the islands should be your first step to hire when you arrive at any of those islands. You can rent for one hour or for the whole day, and have fun with your friends. Especially small islands like Heybeliada, riding a bike is quite enjoyable even for those who are not good at riding a bicycle.
You can take some board games to play with your family members or friends, and take some books to read in the boat or on the islands.
There are some hotels on the islands. If you want to spend more time in a feeling of peace, you can overnight there at reasonable prices. Many tourists stay there at night to wake up the next day on the island.
You should go to the ferry terminal as earliest as you can do so that you would find a suitable place to sit. You will see many people sitting on the stairs especially on Saturday and Sunday. Yet, still you will not feel any uncomfortable journey, but the thing you remember after the journey will be an enjoyable journey with fresh air coming from the sea.
It is better to bring what you want to eat and drink from your home or you can buy before riding the boat since the markets on the islands are more expensive than other places. That is why people bring many together with including bike and ball to play volleyball or football.
---
---
How to go to Princess Islands:
The only way to reach the Princess Islands is to take a boat. There are different ferries to get islands, such as the fast ferries (the sea buses) operated by IDO, and the regular ferries operated by İstanbul Sehir Hatlari.
You can take both of them from Kabatas. It takes around one and a half hour if you get off to the last stop which is Buyukada. Because the ferry timetables change according to the seasons, you should make sure to check the exact departure dates of the sea busses.
Secondly, you can take the same boats from Sirkeci, Eminönü as well as Kabatas. It takes the same duration under the same circumstances, but if it is easier for you to reach Sirkeci, you can take this chance.

---
11.Grand Bazaar
---
It is also known as Kapalicarsi. Grand Bazaar was built by Fatih Sultan Mehmet, so it is a historical shopping square surrounded by shops covered with roofs and domes.
It was known as "Çarşu-yı Kebir" at Ottoman times. The Sultan then brought various shops and shopping centers to the center of commercial life, and today still people go there to see a variety of things. There is almost no tourist visiting this big bazaar with many doors.
The name of doors can be listed as Jewelers, Nuruosmaniye, Basketçihan, Takkeciler, Tavukpazarı, Zenneciler, Beyazıt, Çarşami, Çuhacihan and Mahmutpaşa.
Some tips for visiting Grand Bazaar:
Although almost all sellers in Grand Bazaar know many languages including Bahasa Indonesia, and Malaysian language, it would be better for you to learn some Turkish words if you are a foreign tourist in Istanbul.
You will see plenty of species and other Turkish traditional food and other stuff there. You should first go around to check and compare the prices, and then do your shopping so that you can benefit from the discounts.
---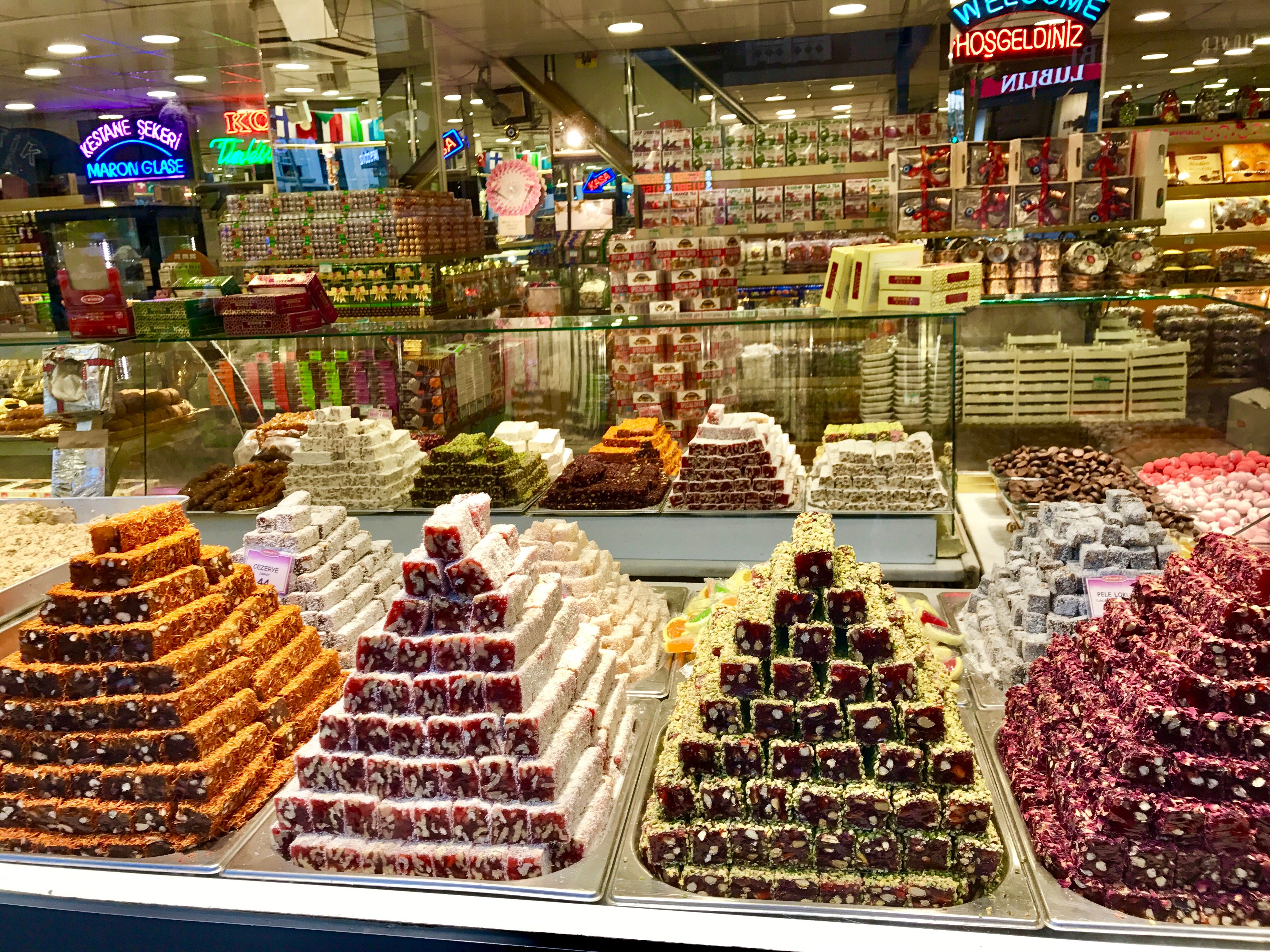 ---
Turkish coffee is one of the traditional drinks of Turkish society. Kurukahveci Mehmet Efendi since 1871. It is very tasty and delicious, you will realize the smell of Turkish coffee and the queue at the end of its small shopping. Even if you are a person who does not like Turkish coffee, still I suggest you try it.
How to go to Grand Bazaar:
After arriving at Eminonu shore side, you can go to Grand Bazaar by walking ten minutes. To arrive at Eminonu from the Asian side of İstanbul, you can take a boat from Uskudar or Kadikoy.
Also, it is possible to arrive at Sirkeci Marmaray station and walk from there to Grand Bazaar. It is an easy and practical way.